Toma Takes All In Arizona Pro Bikini
"I knew that this year I was getting on the stage as a Pro and expectations were going to be higher. So I had to put in extra work."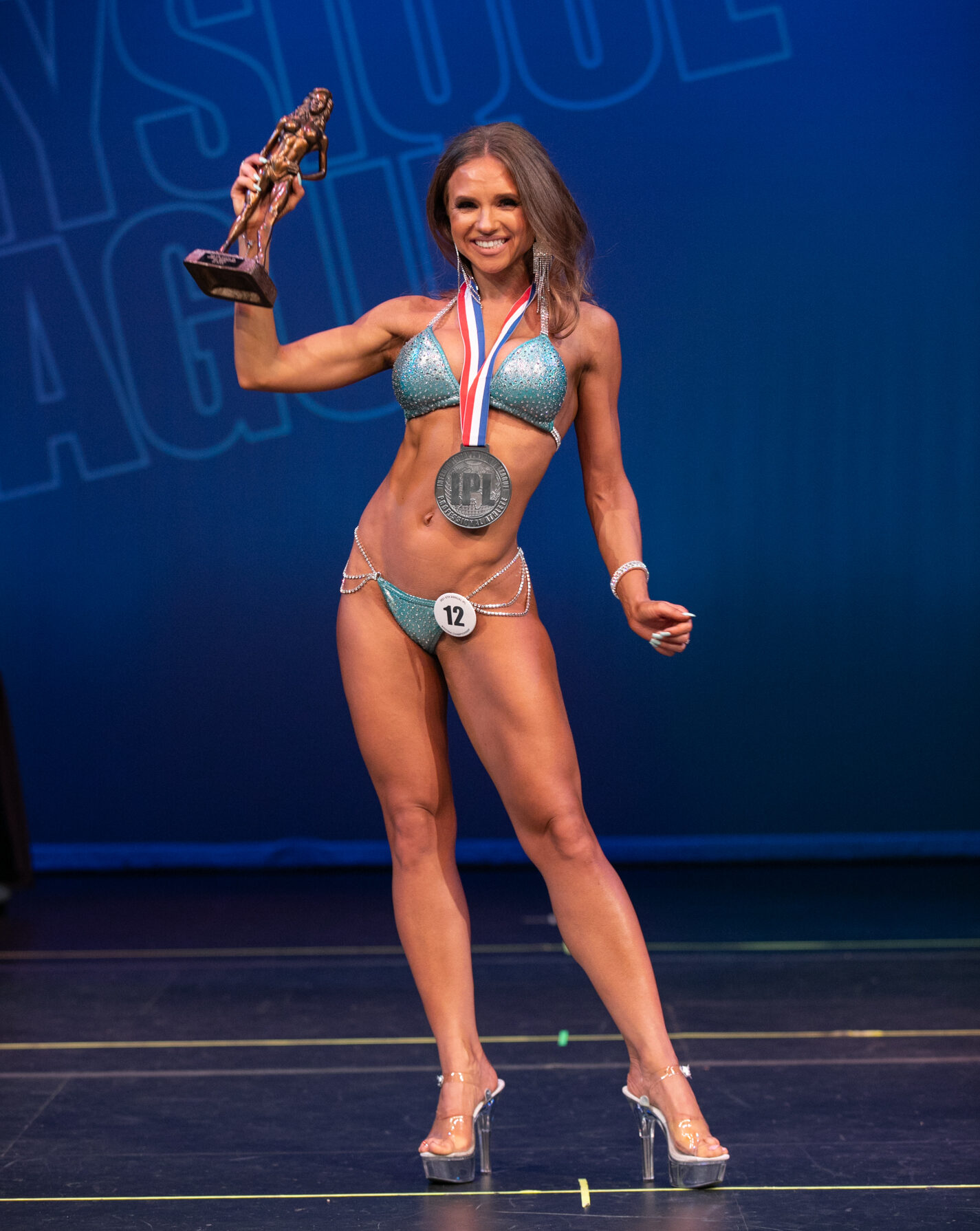 2021 IPL Arizona Championship Pro Bikini Winner, Toma Salari! At the AZ contest in April Toma placed 1st in Pro Bikini, earning her first IPL Pro title. An AMAZING improvement from her 6th place Pro Bikini Debut in October of last year! Toma also placed 1st in Bikini Mommas 1 to 3!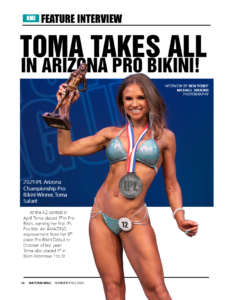 BEN YOSEF: What an amazing year for you so far! And there are still four more months left in 2021! –laughs- Let's talk about the weekend of the IPL Arizona Championship this past April. Not only did you dominate that Pro Bikini class, earning your first Pro title, but you would land on two magazine covers and be featured in four of the IPL's six magazines following that weekend. How are you feeling about all of this?
TOMA SALARI: I am beyond honored and extremely proud of myself! It was a very rewarding and inspiring day!
BEN: Your physique was noticeably improved compared to your last show in October 2020. What changes did you make in between shows? And were you confident that you were going to do so well this past April?
TOMA: Thank you! Last show I had to work with my post-pregnancy weight and gyms were closed. But this year I thankfully did not face any of these challenges. I definitely was not taking the gym for granted this year. Going back to the gym felt like such an honor and privilege.
     I knew that that this year I was getting on the stage as a Pro and expectations were going to be higher. So I had to put in extra work. I believed in myself that I could win, but of course I was not 100% sure, since it was only my second competition.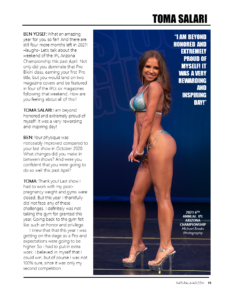 BEN: And it looks like that work paid off! I know that you and 2nd place finisher Amy Olivas are friends. Also, Amy is the current IPL APEX Pro Bikini Champion. What was it like competing against her?
TOMA: She actually signed up for the competition before me, and I decided to go too. Amy is such a beautiful person, inside and out. She is very nice to be around. It's so much nicer to be at the show when there is a team of girls that you are friends with. I was happy that I had such a strong and respectful competitor. Makes me work harder.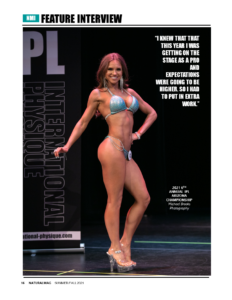 BEN: Both you and Amy also had another contender to deal with. New Pro, Ciara Alejandro. Although you both beat her out in four of the six scored categories, Ciara seemed to dominate the Posing & Presentation round as well as the Model Walk at Finals. What is your take on Ciara, and what was it like having her in that lineup?
TOMA: She sure was standing out on stage. You can tell she was trained by a different coach. She was definitely confident, with a fun personality. But in some parts she was overdoing it with activity and speed. Overall, I think it's an inspiring message to athletes that it's important to work hard in every aspect, and give it 100%. It was great having her on our stage. I loved her happy attitude.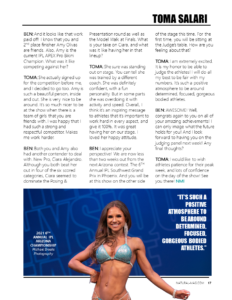 BEN: I appreciate your perspective! We are now less than two weeks out from the next Arizona contest. The 6TH Annual IPL Southwest Grand Prix in Phoenix. And you will be at this show on the other side of the stage this time. For the first time, you will be sitting at the Judge's table. How are you feeling about that?
TOMA: I am extremely excited. It is my honor to be able to judge the athletes! I will do all my best to be fair with my numbers. It's such a positive atmosphere to be around determined, focused, gorgeous bodied athletes.
BEN: AWESOME! Well, congrats again to you on all of your amazing achievements! I can only image what the future holds for you! And I look forward to having you on the judging panel next week! Any final thoughts?
TOMA: I would like to wish athletes patience for their peak week, and lots of confidence on the day of the show! See you there! NMI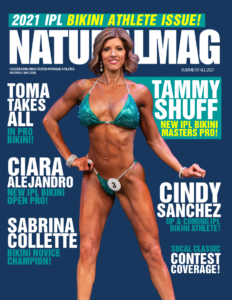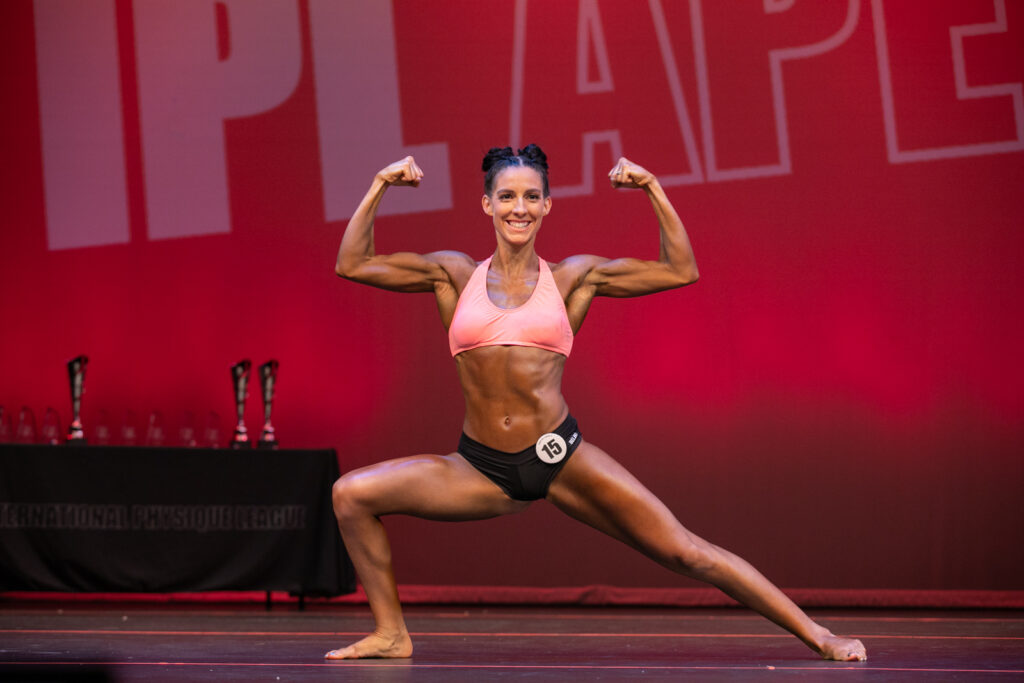 "I am pushing my training to new levels and working harder than ever…I'm looking forward to seeing the package I am able to bring to stage!"
Read More »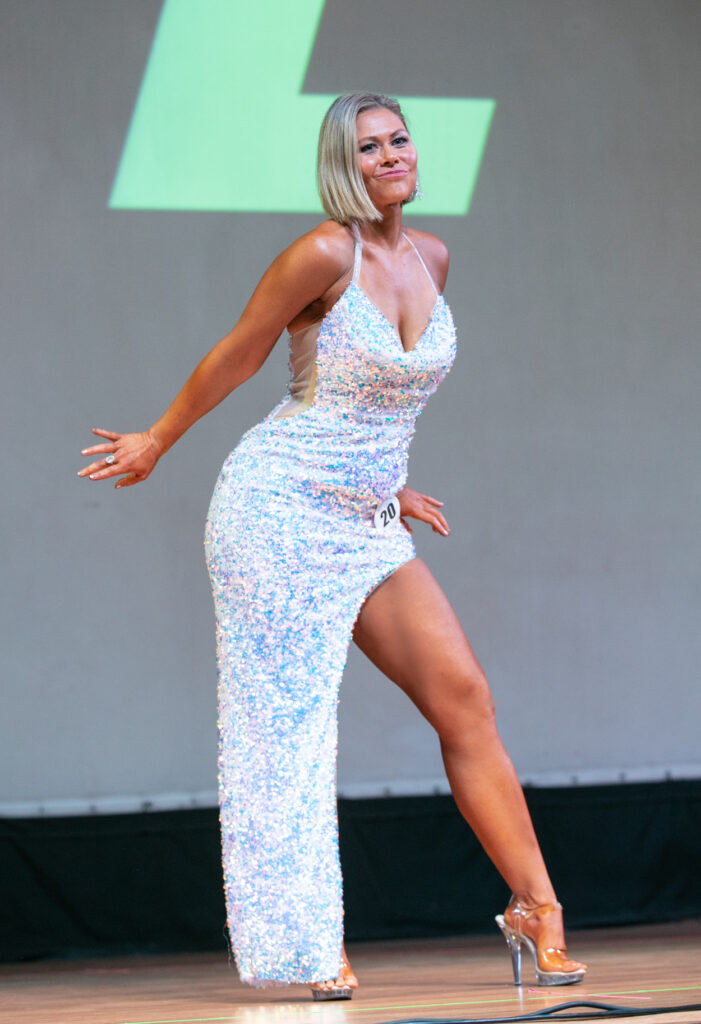 "Taking care of your mental and psychological health is just as important as your physical. You should never stop developing your mind, body, spirit."
Read More »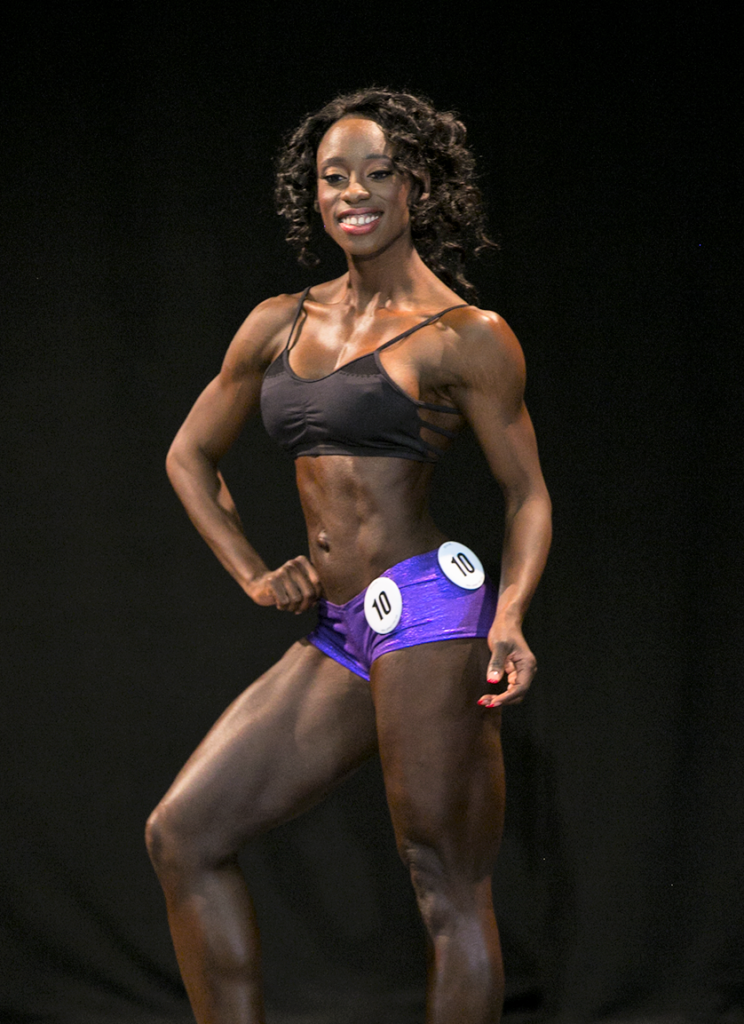 "I would say that this was the best look of physique, suit and posing I have achieved to date."
Read More »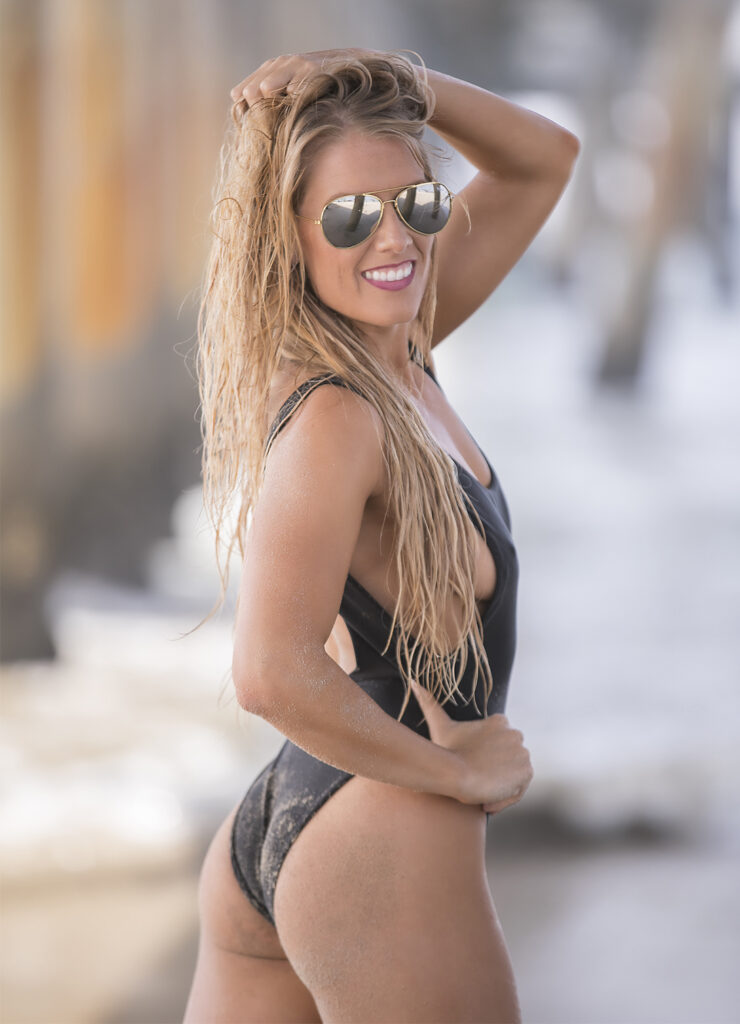 "When you are confident and comfortable in your own skin, it shows through in every part of your life."
Read More »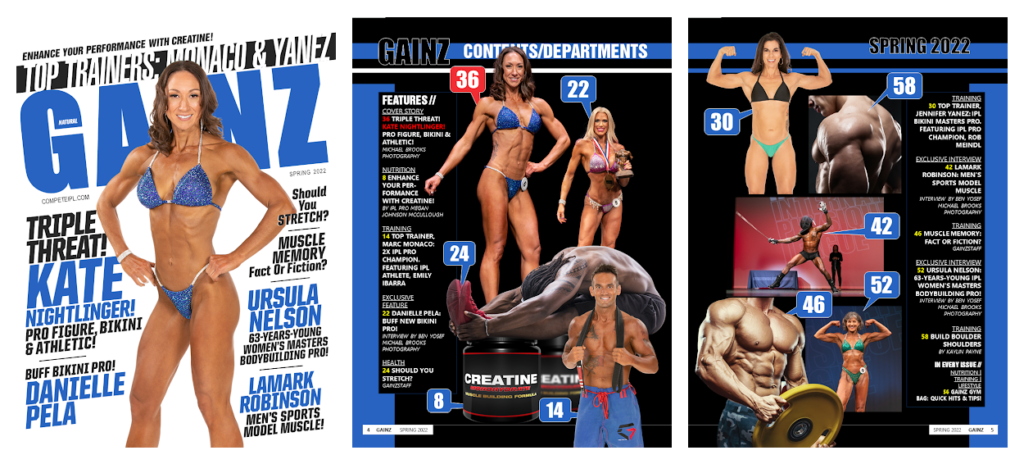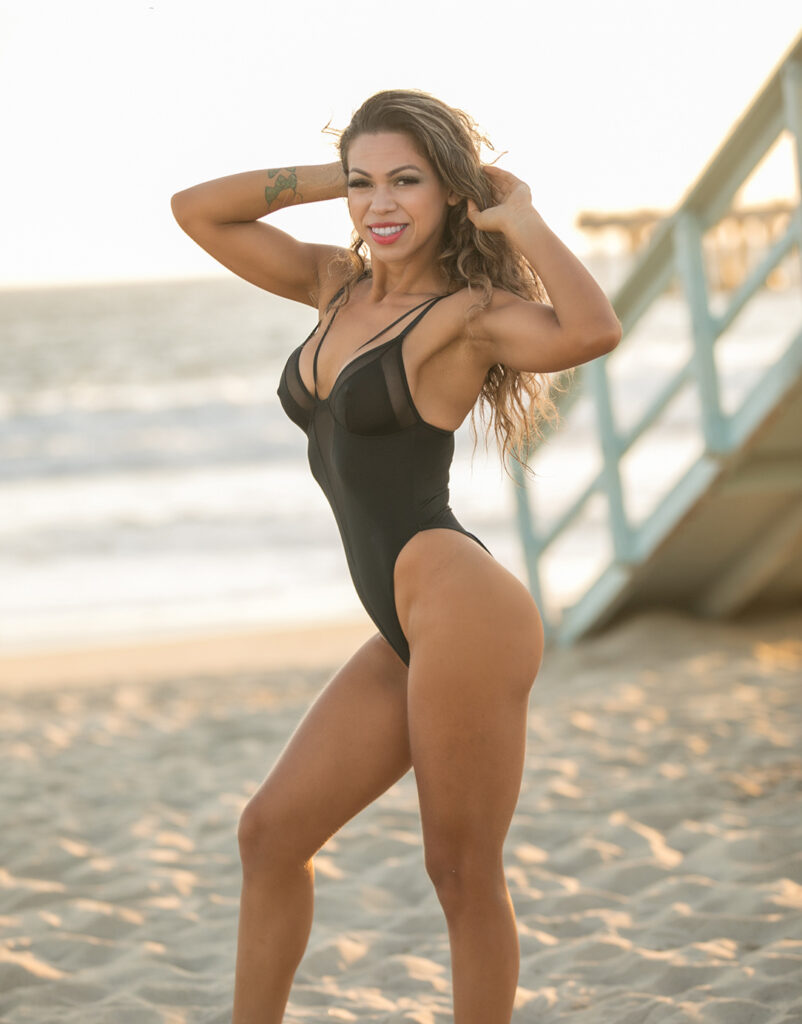 "I'm a very adventurous person, so everything that will give me adrenaline I am in."
Read More »