Top IPL Bikini Pro, Raquel Flaherty
"Keep reaching for the stars! Life is full of surprises, but always work hard and don't expect any handouts."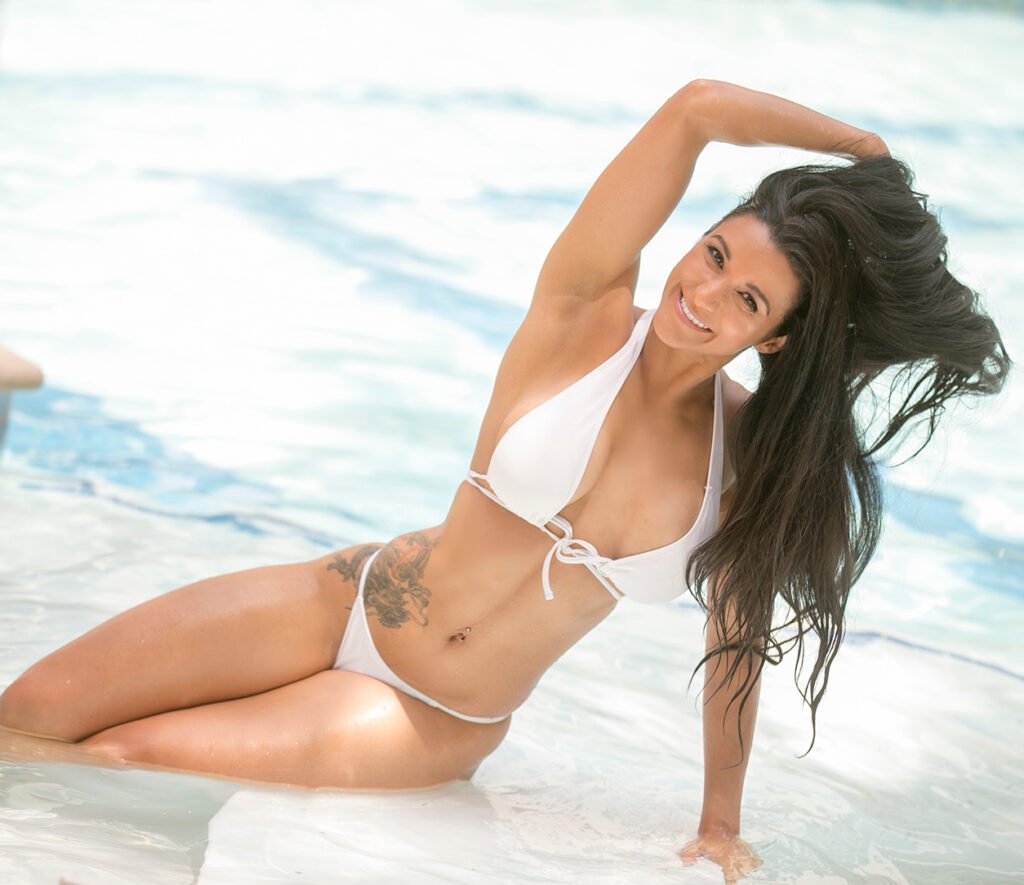 Nickname: Rockie
Age: 38
Height: 5'4"
Ethnicity: Hispanic
Relationship Status: Married
Name three music artists you've been listening to lately: Disturbed, Ariana Grande, Ed Sheeran.
Favorite Books/Magazines: The Five Love Languages, The mastery of Love, The Four Agreements.

Favorite Movies: My fair lady, Hitch, How to Lose a Guy in 10 Days.

What are some of your professional accomplishments? (modeling or otherwise): Landing the cover of SEAM Mag. Earning an IPL Bikini Pro Card. Being featured in Natural Bikini Magazine. Becoming a personal trainer and a health coach. Becoming a successful entrepreneur.
Any cool modeling experiences to share? Some of my first modeling jobs were for Harley Davidson. The set was so cool and the bikes were just amazing!

Where's the coolest place you've traveled to for work? Did you get to party at all? New Orleans, hands down! We did get to spend some time on Bourbon street! However, I prefer the daytime pleasures and really had fun exploring the French quarter and tasting the famous beignets!
Best things about Bikini Modeling? Worst things? Best thing is getting to meet new people and really enjoying the different scenery! Worst thing would be holding a pose for a long time! [laughs]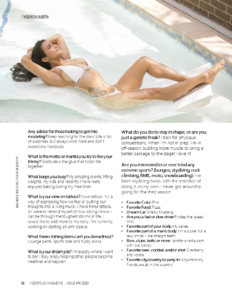 Any advice for those looking to get into modeling? Keep reaching for the stars! Life is full of surprises, but always work hard and don't expect any handouts.

What is the motto or mantra you try to live your life by? Gratitude is the glue that holds life together.
What keeps you busy? My amazing clients, lifting weights, my kids and recently I have really enjoyed baking during my free time!
What is your view on tattoos? I love tattoos. It's a way of expressing how we feel or putting our thoughts into a living mural. I have three tattoos. All were to remind myself of how strong I know I can be through the toughest storms in life. I would like to add more to my story. I'm currently working on starting an arm sleeve.
What three clothing items can't you live without? Lounge pants, sports bras and fuzzy socks.
What is your dream job? I'm exactly where I want to be! I truly enjoy helping other people become healthier and happier!
What do you do to stay in shape, or are you just a genetic freak? I train for physique competitions. When I'm not in prep, I'm in off-season building more muscle to bring a better package to the stage! I love it!
Are you interested in or ever tried any extreme sports? (bungee, skydiving, rock climbing, BMX, moto, snowboarding): I've been skydiving twice, with the intention of doing it on my own. I never got around to going for the third session.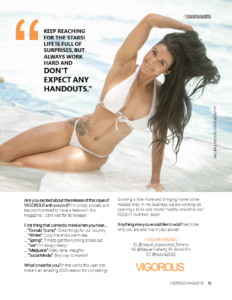 QUICK ROUND:
Favorite Color: Pink.
Favorite Food: Pizza.
Dream Car: Shelby Mustang.
Are you a fast or slow driver? I obey the speed limit.
Favorite part of your body: My calves.
Favorite part of a man's body: I'm a sucker for a sexy smile! I like straight teeth.
Bars, clubs, both, or none: I prefer a restaurant with live bands.
Favorite beer, cocktail, and/or shot: Cranberry and vodka.
Favorite city/country to party in: Anywhere my friends are at in the country!
Are you excited about the release of this issue of VIGOROUS with you in it? I'm simply ecstatic and beyond humbled to have a feature in this magazine! I cant wait for its release!
First thing that comes to mind when you hear…
…"Donald Trump": Great things for our country.
…"Winter": Cozy fire and a warm tea.
…"Spring": Time to get the running shoes out.
…"Sex": I'm always ready!
…"Marijuana": Mary Jane. –laughs-
…"Social Media": Best way to market!
What's next for you? In the works this year is to make it an amazing 2020 season for competing! Growing a little more and bringing home some medals! Also, in my business, we are working on opening a brick and mortar healthy smoothie bar! ROCK-iT Nutrition, soon!

Anything else you would like to add? Get to be who you are and live in your power.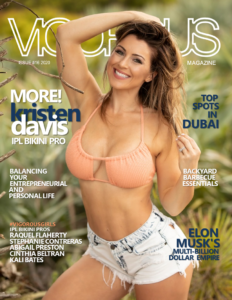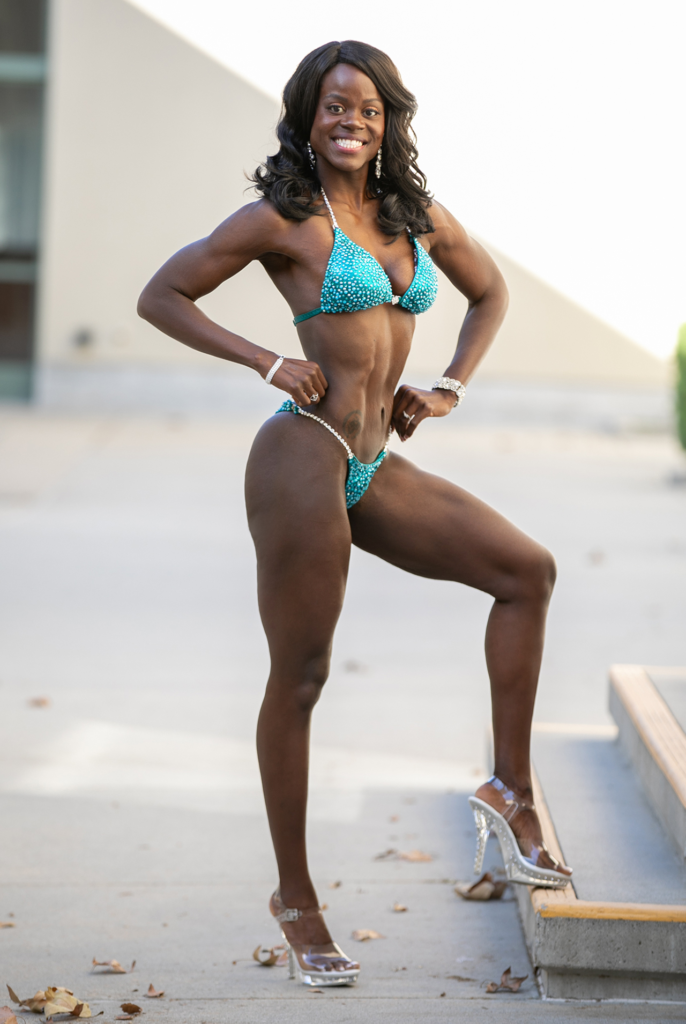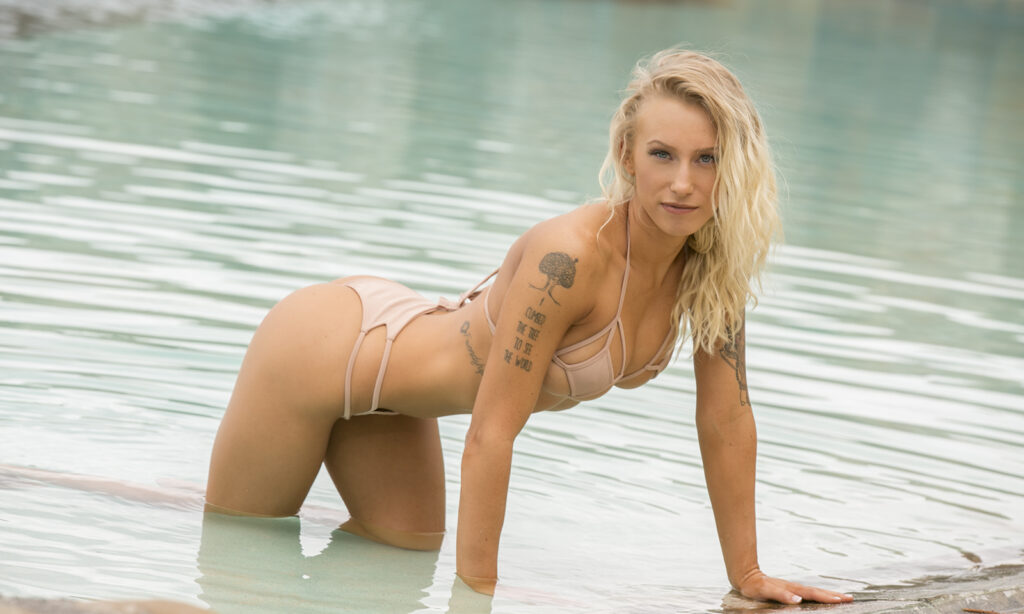 "I wanted to try a sexy, more revealing shoot before I run out of chances."
Read More »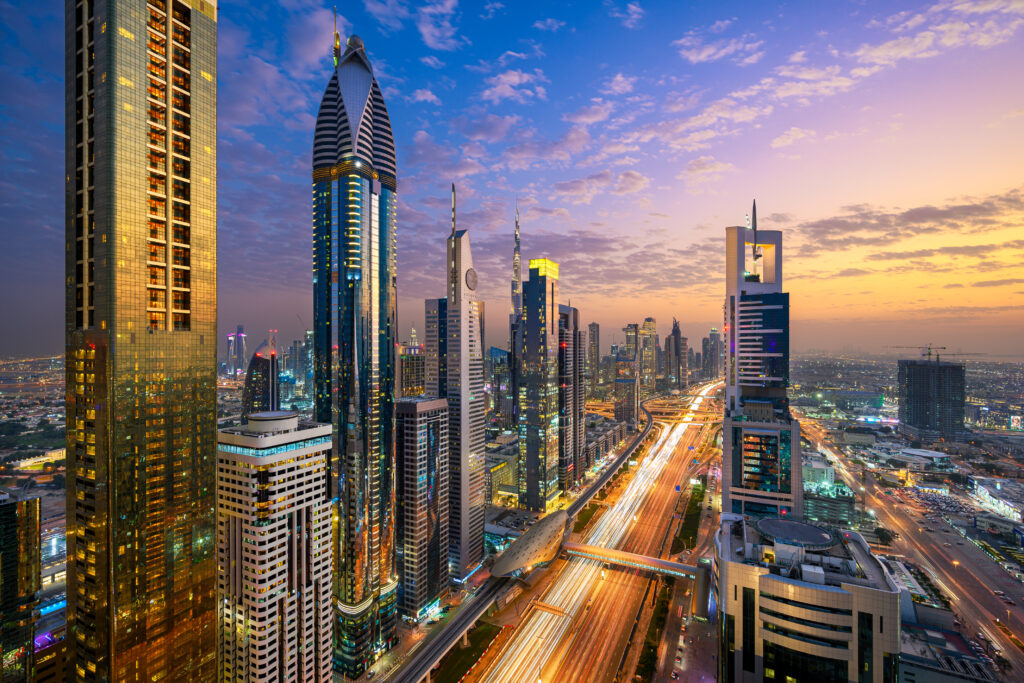 Anyone who has visited Dubai in the last decade can attest to its great wealth and grand ambitions.
Read More »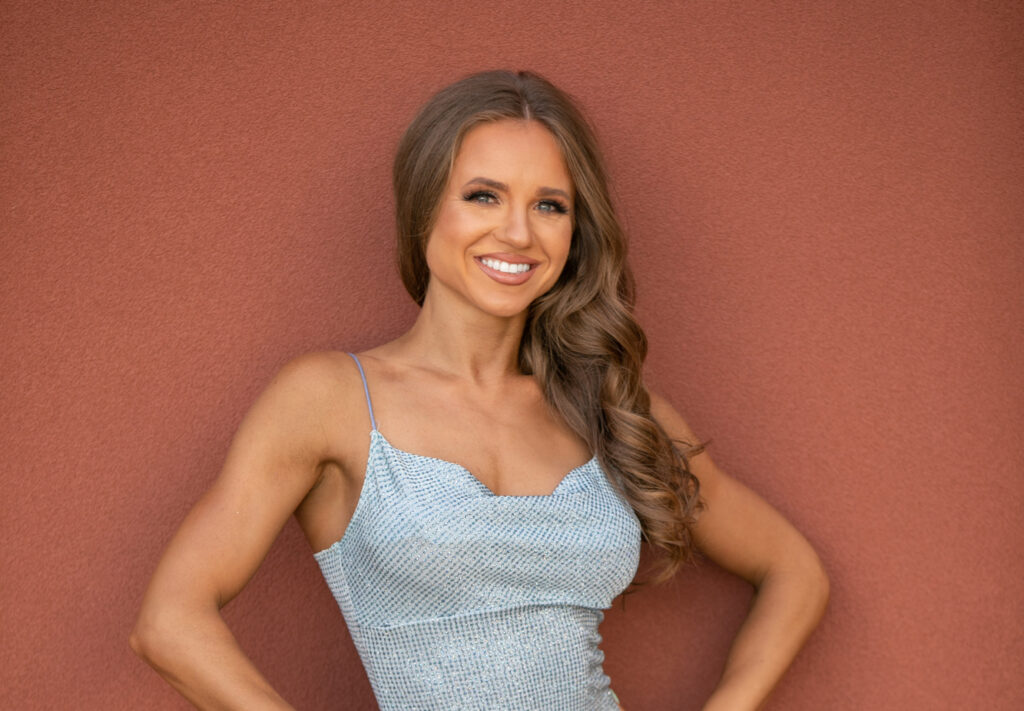 "Most of the time I was doing things one handed while the other hand was busy breastfeeding a baby."
Read More »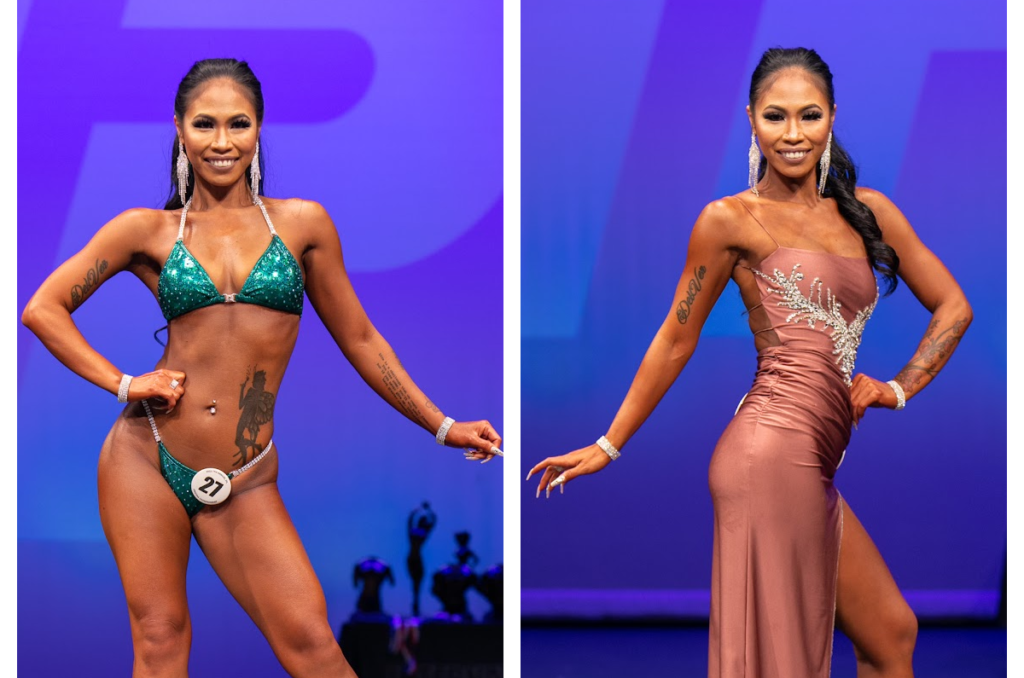 "Honestly, I am very surprised at myself and still can't believe it. It is really mind- blowing."
Read More »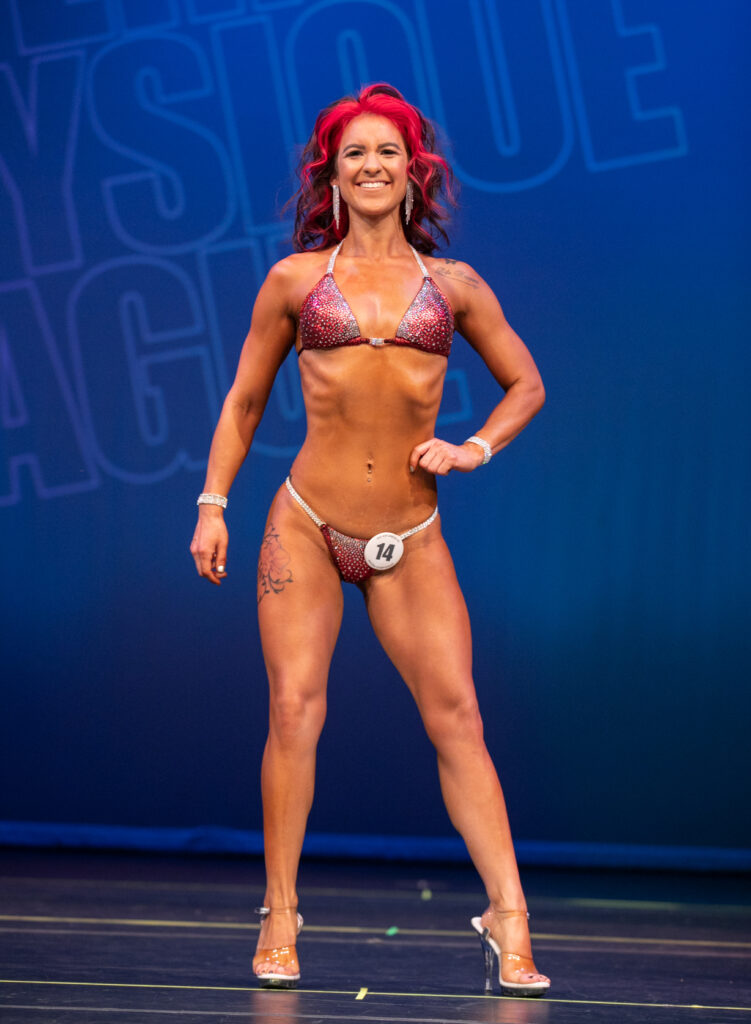 "I wanted more people to see that they are capable of reaching for what they think they cant. Just try! Go for it! I did!"
Read More »