Cover Story – Comeback Kid! New IPL Pro Britt Farmer
"They all knew the sacrifices I had made and hard work I put in over the last eight months to completely transform. So it was an emotional win."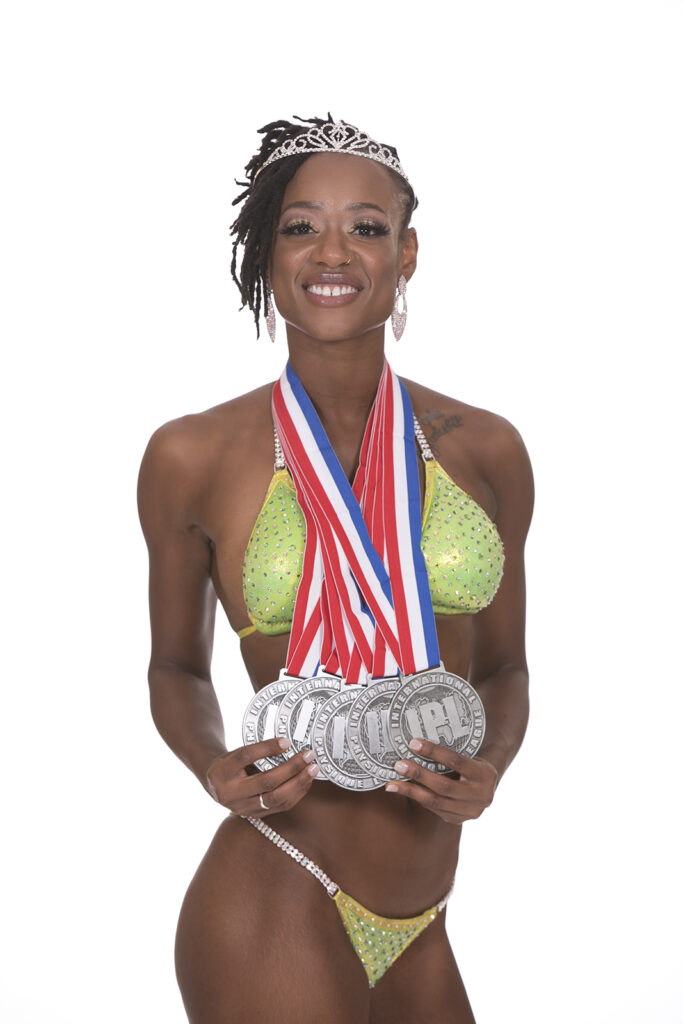 How She Went From 7th To Sweeping The Bikini Division In Arizona!
Two was also the charm for IPL Athlete Britt Farmer at the 2018 3rd Annual IPL Southwest Grand Prix Pro/Am on October 21 in Phoenix, AZ. And what a charming day for Britt.
     It is inevitable that there will be one competitor who rises above the pack when you have stacked Bikini classes. And this is exactly what happened in the case of Britt Farmer. But first, Britt's incredible comeback must be acknowledged. In her first contest (the IPL Arizona Championship) five months prior, Britt competed in Bikini Open, landing in Class B. In the stacked class she placed 7th, missing the top five.
     Five months later Britt would return to deliver a package to the Bikini stage that absolutely could not be denied. This time she would enter Bikini Novice and Open. Starting with Novice, Britt landed in 1st place in class B and went on to take Overall Bikini Novice against Class A winner Reinna Barnhart.
     Then it was on to the Open. In the Open, Britt once again dominated, taking Class B 1st place as well as the IPL Pro card.
     Following that win it was on to the Open Overall against the other two class winners, Ashley Hawkins (Class A) and Nicole Orcutt Myers (Class C). Once again it was Britt Farmer for the Overall win. How's that for a Bikini comeback!?!
BEN YOSEF: What an amazing day for you at the Grand Prix! You killed it. What was the day like for you?
BRITT FARMER: The day was absolutely exhilarating! I went in an Amateur, competing for the second time in five months, and left a Pro. The feeling was insane! My family and friends were there to cheer me on. My team was so supportive. They all knew the sacrifices I had made and hard work I put in over the last eight months to completely transform. So it was an emotional win. I seriously couldn't have asked for a better day and I'm grateful for you and your vision for making it possible. Thank you!
BEN: It was all very well deserved. So, let's start with your first show, the May 2018 IPL Arizona Championship. At that contest you entered Bikini Open and landed in Class B. And ended up placing 7th out of eight competitors in that class. How were you feeling on that Bikini stage and what were you feeling about your placement?
BRITT: Oh boy. That moment of basically being at the bottom, to say the least, lit a fire under me. I just remember being nervous as all get out getting ready to step on stage. The very first Bikini show of my life and honestly my thoughts were: The girls are leaner and have stage presence, and I am just trying to make it across the stage without embarrassing myself or my family out in the audience.
In reality, and In all seriousness, from where I'd started, I'd definitely made progress in my body and I was so proud of myself. But knew I had some work to do in all areas. Competing in Bikini was a bucket list item for me and I'd told myself that before 30 I would step on stage. It had been a goal of mine to just get in the best shape of my life and what better way to jumpstart and hold myself accountable?! I can say I was up for the challenge, but really had no clue just how much went into competing. Thankfully, I had an amazing coach to show me the ropes and inspire me along the way.
When it was all said and done, I stepped off that stage looking at my experience as just having laid the foundation for what was to come next for myself. It had been three months of transforming mentally and physically and I'd learned so much about myself and this sport. Whether I was getting my Pro Card the next time I competed or 3, 5 or 10 other attempts at competing, it was no longer just a bucket list item. I was determined to not only just beat the old version of myself, but to work my way up to the very top!
BEN: Love it! Such a level-headed approach. And so cool that you knew right away that you were coming back stronger. What sort of things did you do differently heading into your second show in order to improve so much?
BRITT: I'd say the biggest change was diet. Before I started prepping for the May show I was a Vegetarian, but decided to follow a mostly Pescatarian approach. Needless to say, I learned that eating Salmon for most of my prep was not that great for me. [laughs] Especially since I was trying to lose fat. For the October show I went back to being fully Vegetarian. That made a huge difference! I started leaning out pretty quickly.
I added an extra lifting day and did more workouts at home for conditioning. Best kept Bikini Body secrets: Sprinting and jump roping. Do it! Posing and Presentation, which we know can make or break you, was a sharper focus for me as well. It was like taking on a mini part-time job, but the work needed to be done.
I had so much fun prepping for the second show! I researched the sport itself, movements, and form even more. Since my focus didn't have to be so much on fat loss like the last show (down 20+ pounds) I got to enjoy building muscle a little more as well. There was no better feeling than seeing new results at my weekly check-ins.
Not having a trainer was confirmation for me that I was doing something right and things were coming together. This body is from Planet Fitness and Google. Anything is possible!
BEN: Your glutes really stood out at that show. They were "high and tight", as we say. [laughs] What did you do to bring those glues up and get them popping like that?
BRITT: It's one of my fav body parts to work! Mainly because it's the easier part to build and sculpt on my frame. I did lots of isolation exercises, mainly old school. Fire hydrants, donkey kicks, curtsy lunges and bridges.
     I took Tawnya Cline's back to back free abs and booty class just about every Monday. It was a great way to be with my team and also get the booty right! I am a long-time runner. I was a sprinter growing up, but became a long distance runner going into adulthood. I went back to my roots for my prep! I had so much fun sprinting again, which is amazing for lifting the bum and strengthening the body all over. And I can't leave out the Weighted Squats. There were countless Squats!
BEN: Your reign over the Grand Prix started with Bikini Novice, where you took 1st in Class B, then went on to take Novice Overall. What was going through your mind heading into that first class? And how did you feel after taking the class and the Overall?
BRITT: OMG, so many feelings. I remember feeling nervous, but still confident, walking on that stage. I just told myself whatever the result, there was no way this time around I would get lost in that lineup of ladies like I did five months prior. Admittedly so, the pressure was still on because my competition in that class definitely brought their A-game! I mean, I was in this class with my sister in law, Nicole Myers, so I knew I was going to have to work overtime for it. Crazy enough,   as soon as I walked on stage the love of my life had literally just walked through the doors of the auditorium.
     Jon, my fiancé at the time, now husband is truly my biggest supporter and cheerleader in life, so that was pretty appropriate timing. Chin up, shoulders backs and package tight. There were truly no regrets or hesitations getting on that stage this time. I remember being SO excited to be placed in the middle during Prejudging. That's always a good sign, right!? To come back that night and walk my first official Bikini T-Walk on the IPL stage was something I'd waited five months for. To be given that medal for 1st place in the class was an incredible feeling. A dream come true! Then to pose off and ultimately be crowned Overall winner was the icing on the cake I didn't even know I was allowed to have. [laughs] They both were emotional and proud moments, to say the least.
BEN: Love it! Such awesomeness! I imagine you must have just been totally on cloud nine. Also, this must have had you feeling like you were a force to be reckoned with at that show. What did the momentum from that Novice class feel like as you headed into the big dance…Bikini Open?
BRITT: The win from Novice added some pep to my step for sure! The chance to win my Pro Card was finally here. I think I had the most fun during the Open class. I was a little more relaxed and warmed up. I gave it everything up there and it paid off.
BEN: Paid off indeed. Your final run in Bikini was the Open Overall. There you beat out the class A and C winners for the title. After two wins and the Novice Overall title, You must have felt pretty confident heading into the Open Overall. Were you? And after you took the Overall what was going through your mind?
BRITT: Absolutely! That Overall was intense, but fun. Nicole Myers and Ashley Hawkins are two amazing ladies. To be up there with them was awesome! Taking the Overall made me have a flashback to Bikini Pro Brittany Zawacki, just five months prior, where she cleaned house in every category she entered. I remember being in awe of the package she brought and the hardware she left with! That's what it felt like at that point. I later joked to her that I think I just "Zawackied" the show. It was an incredible feeling.
BEN: [laughs] Yes! You totally Zawackied the show! I love that! And yes, Brittany Zawacki was incredible at her show. She totally crushed it. So next up was Sports Model and you totally killed it. And that class was stacked. How were you feeling on stage there as well as after you took that Open class?
BRITT: The Sports Model division is my absolute favorite! I actually entered the category my first show as a sprinter. Bikini is a favorite for me, but I love being active so to be able to incorporate an active routine outside of the heels brings a little extra spark for my show prep. From the costume to perfecting the routine I had a blast. My sport for this show was golf, which I am very much an amateur in, but thought it would be appropriate to channel my inner Tiger Woods to show the best parts of my body. That class was very much stacked! Everyone's routine was so badass and unique. I was truly honored to have walked away with a Pro title that night.
BEN: And so ended your amazing run at the Grand Prix. That show was like nine months ago, although I remember it like it was yesterday! [laughs] Since then you have gotten married, which is awesome. I am super happy for you. And you joined us on the judging panel at this year's Arizona Championship in May. Great having you on that panel. How has married life been and how did you like being on the other side of the stage, judging.
BRITT: Married life is absolutely fabulous! I married the most amazing man, who just so happens to be my best friend and he puts up with my ridiculous shenanigans. I win everyday. [laughs] We just got back from our Honeymoon in Mexico, which was perfect in every way. It was definitely hard coming home after seven days of vegging out and being disconnected from our normal life. It was our sort of our last hoorah, if you will, since we are expecting a baby in March!
     Being on the panel was! I may have verbally at one point said I'd never do such a thing, because I knew how tough it was, but I couldn't pass up the opportunity to be a part of the show in such a different capacity. I will say I have gained a whole new respect for judges!
     As a competitor, I'm used to being a part of the hustle and bustle of backstage chaos. It was pretty cool to sit and watch the athletes from a whole different angle and perspective. It was a humbling experience and by far one of the toughest jobs I've done. Again, I definitely gained a new respect for the judges. I think it's safe to say it's pretty easy to be in the audience, sitting on the sidelines and critiquing in your own personal way. The way YOU think things could go. It's a whole other ballgame sitting at that judge's panel. Truly grateful for the learning experience!
BEN: Love it! Congrats on your pregnancy! And thank you again! I have truly enjoyed watching all you have accomplished in the IPL and in your life. And BTW, I am pretty sure this is the longest Natural Bikini Magazine interview ever. It is seven pages long! Hope to see you soon!
BRITT: Yahhoooo!!! Thank you for the feature…I'm excited for the release!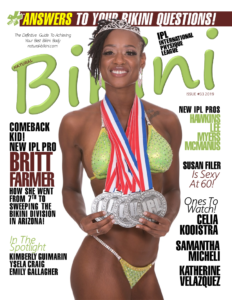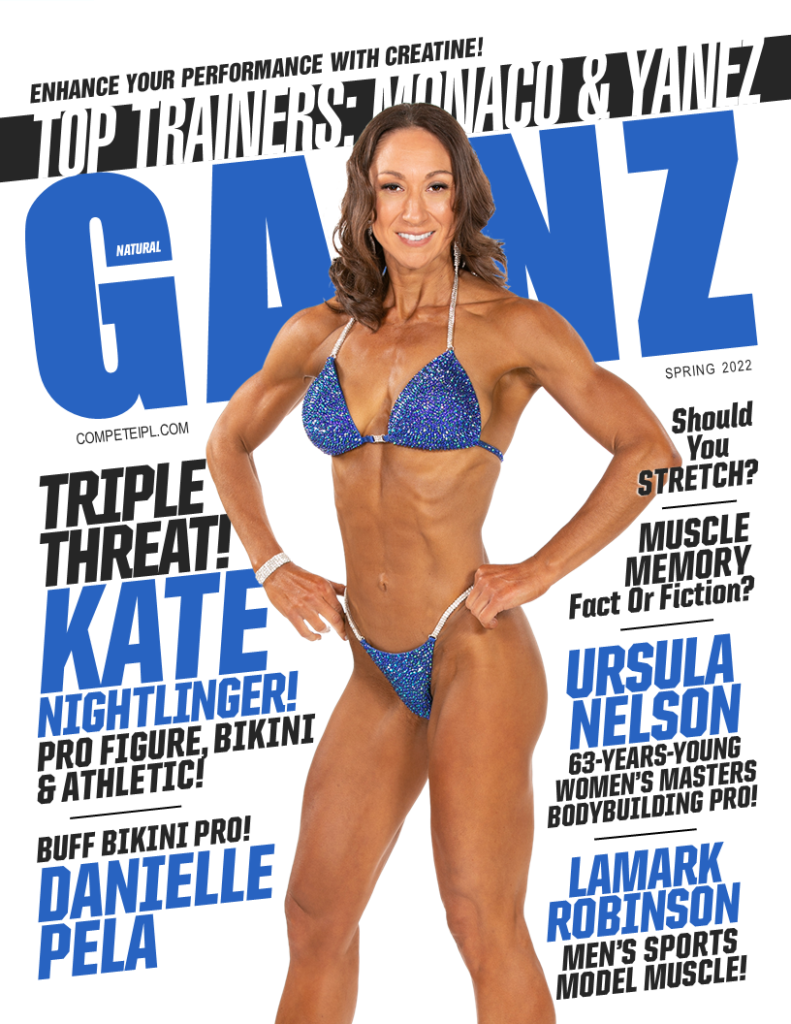 "I lift because it is empowering to get stronger and see your body transform over time. I never dreamed I'd be a cover girl!"
Read More »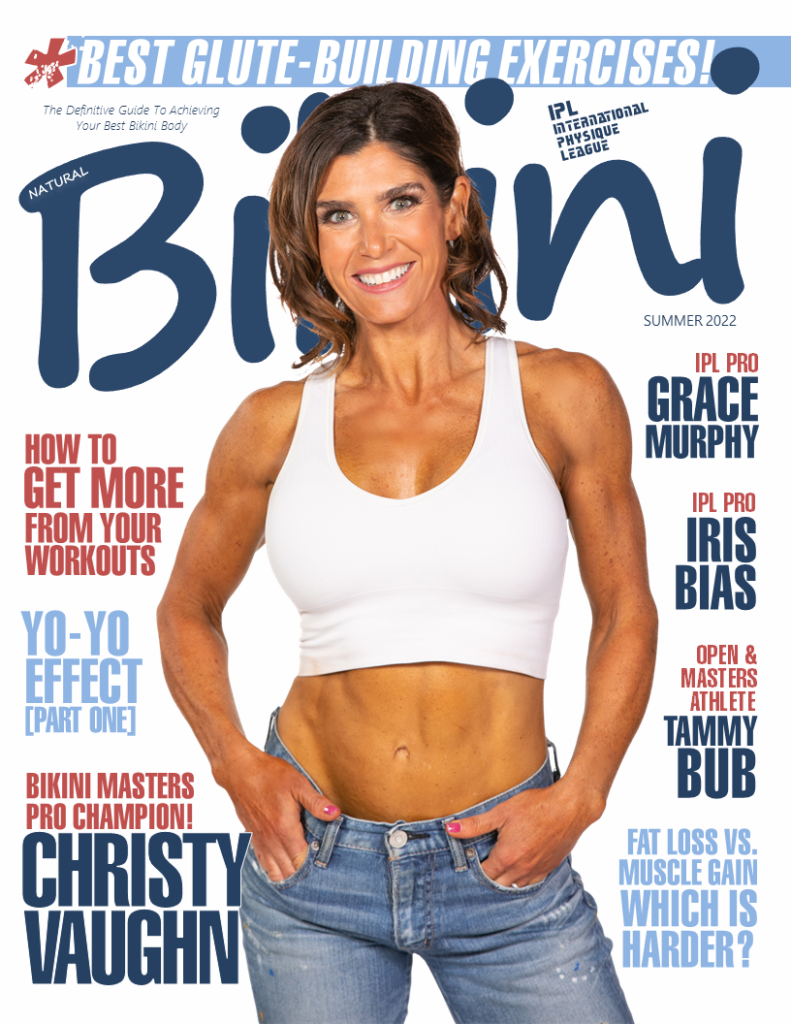 "Seeing myself on the cover of IPL's Natural Bikini Magazine has giving me even more inspiration. This validates that my hard work, dedication and consistency in the gym has clearly paid off…"
Read More »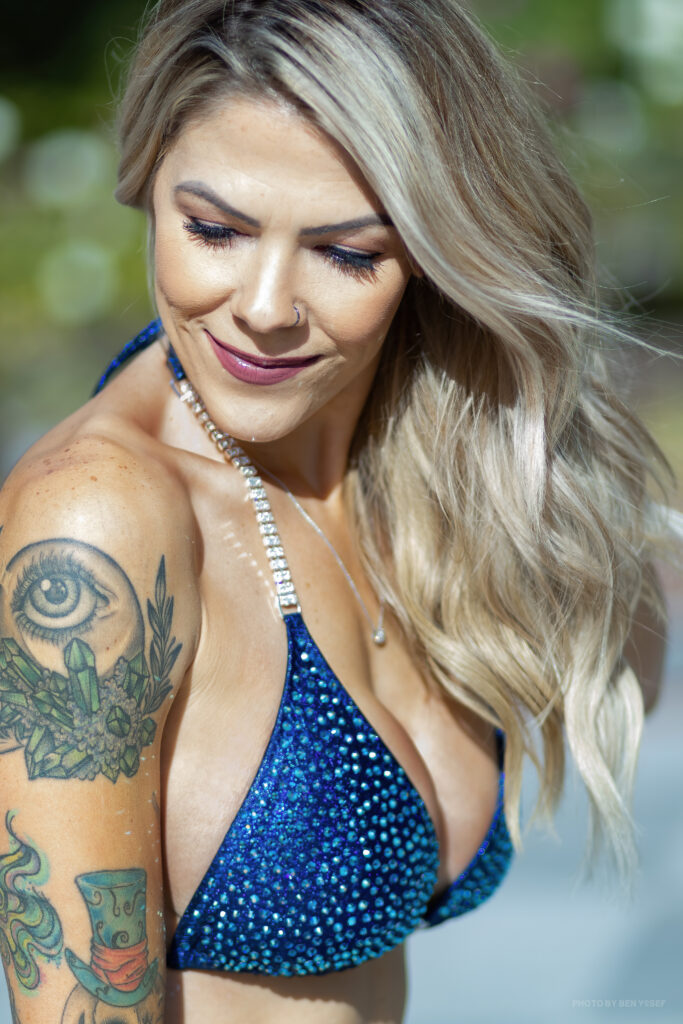 "Tattoos? I love them! I have plenty. They are a great way to express yourself."
Read More »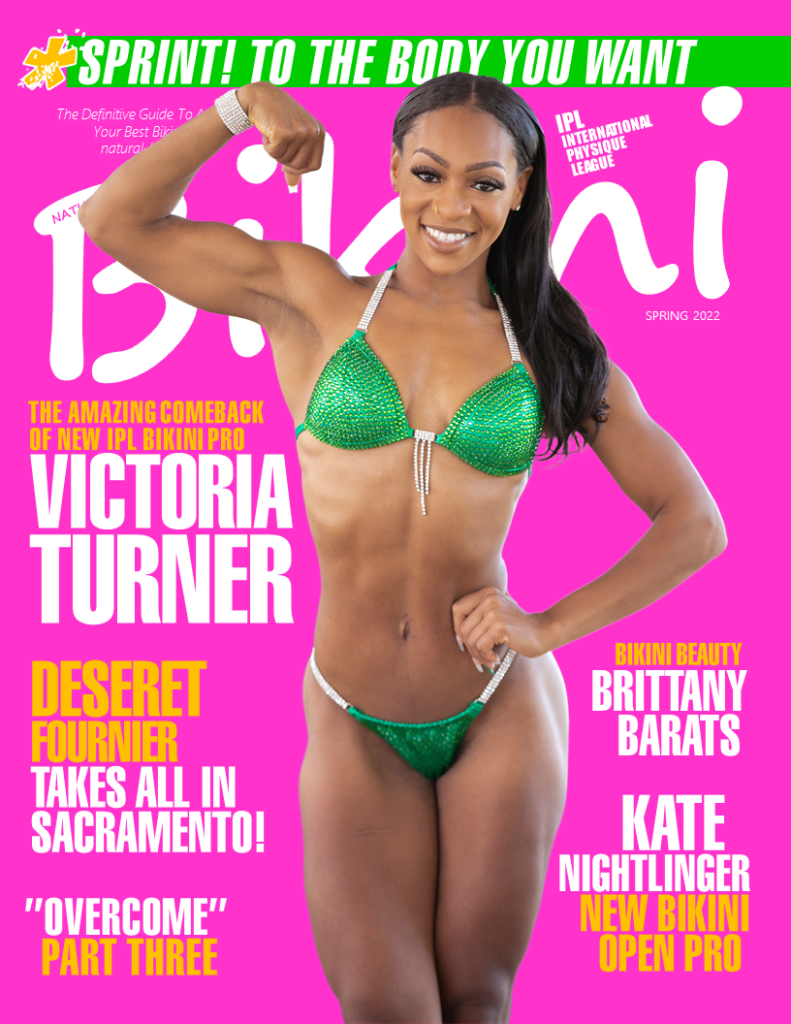 "Seeing myself on the front cover of my first IPL magazine is pretty awesome! I worked extremely hard for the past year and I'm super pumped that I have already accomplished one of my goals within the IPL."
Read More »
"I was super excited to be on stage as a Pro…I tried to have the energy of how proud I was of myself to get there…"
Read More »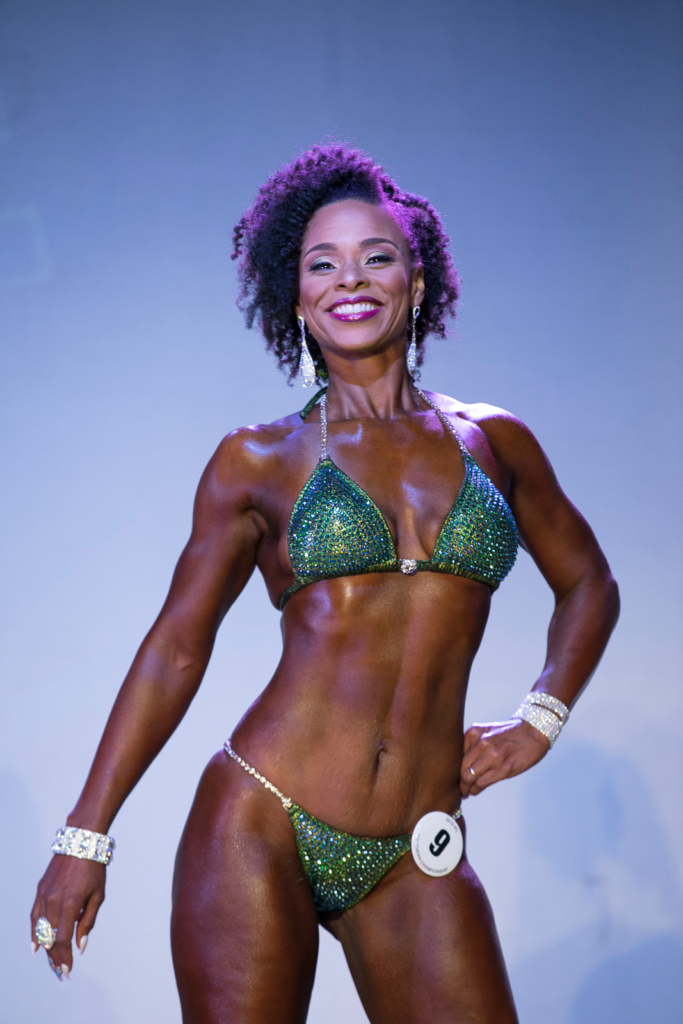 "I was struggling at first weighing 165 lbs. Nearly 30 percent body fat. It took more than a year to change the way I saw myself…"
Read More »