The Progression Of Reigning APEX Pro Bikini Champion, Amy Olivas
"I am currently just working on getting stronger and putting on more muscle!"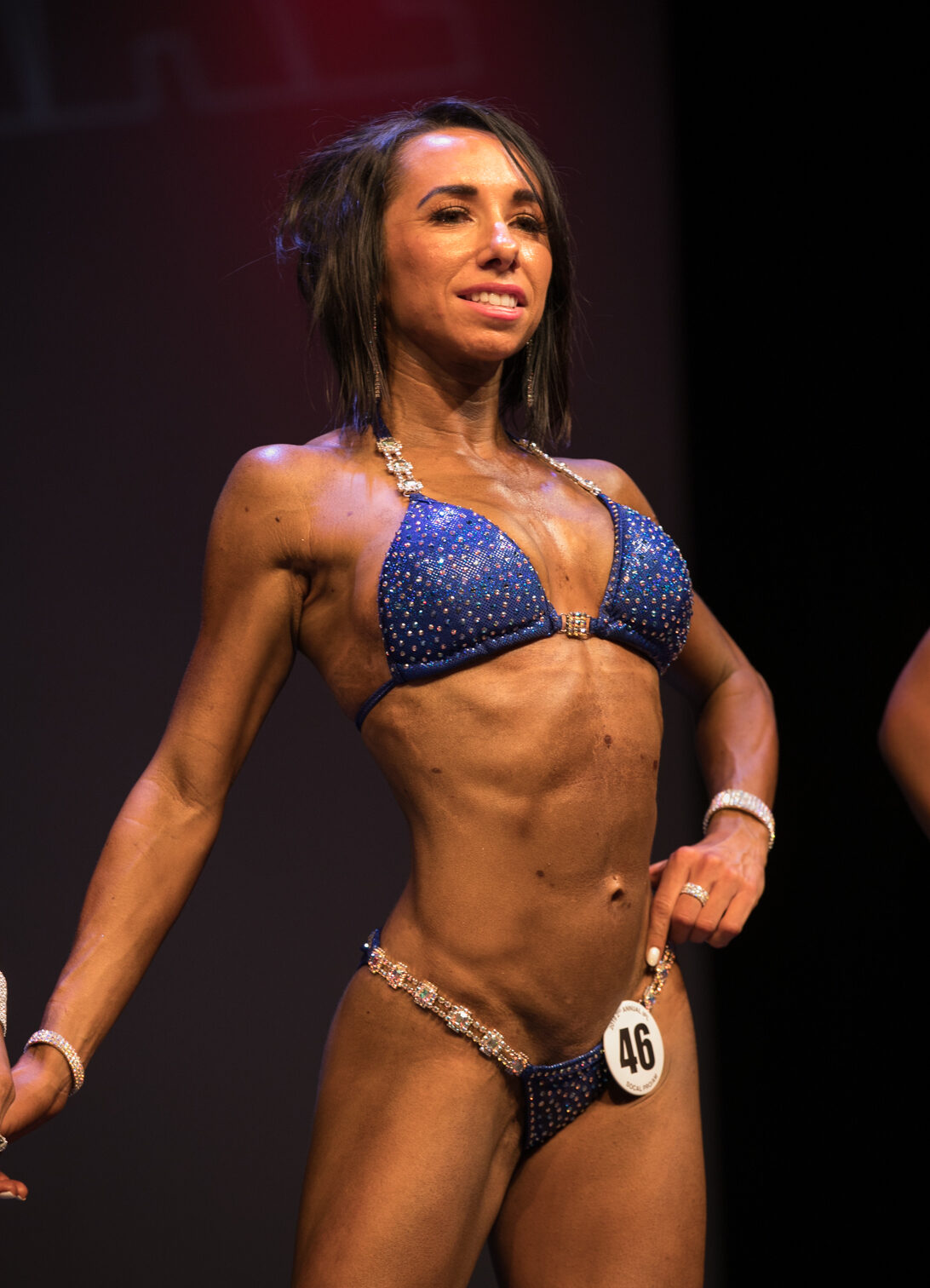 BEN: YOSEF: OK, here we go! Congratulations on taking the stage for your second IPL Pro show! How are you feeling about what went down in April?
AMY: Thank you! The April show was a great show. I came up short, placing 2nd. Just means there's always room for improvement.
BEN: Spoken like a true champion! In this feature I want to discus the progression of your contest placements and your physique over the course of your IPL contest history so far. Starting with your very first contest, the September 2019 IPL SoCal Pro/Am. You were very impressive at that debut contest. You placed 1st in Bikini Novice Class B, 3rd in Bikini Open Class B, 1st in Evening Gown Novice and 5th in Evening Gown Open. What was it like for you competing at that contest? And how did you feel about your placements?
AMY: My first competition was a high and a complete shock. I went into the competition just wanting to not forget my posing and do the best I could. I wasn't even looking at any of the other competitors. I was there to achieve my goal and that was to compete in a show. Placing as well as I did for my first competition was the best feeling! I knew I found my new hobby. I was hooked after that show.
BEN: Awesome! What was your mindset as you prepared for your second show, October 2019 IPL APEX IV? Also, you came into APEX with significantly more muscle, with similar conditioning as your first show. What was your training like between shows and what did you do to pack on that muscle in such a short period of time?
AMY: Now that I had one show done, I knew what to expect. I feel like that took a lot of the nervousness away. I was going into APEX with a positive mindset and excited to see how I would place against a new group of competitors. After my first show we changed up my meal plan and we added more protein to my meals. I kept my training the same with HIT classes six times a week.
BEN: At APEX IV you placed 2nd in Bikini Open and Evening Gown Open, an improvement in placements. How were you feeling once the dust settled after that contest? And what was your game plan moving forward?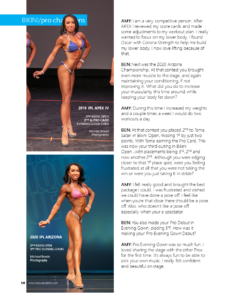 AMY: I am a very competitive person. After APEX I reviewed my score cards and made some adjustments to my workout plan. I really wanted to focus on my lower body. I found Oscar with Corona Strength to help me build my lower body. I now love lifting because of that.
BEN: Next was the 2020 Arizona Championship. At that contest you brought even more muscle to the stage, and again maintaining your conditioning, if not improving it. What did you do to increase your muscularity this time around, while keeping your body fat down?
AMY: During this time I increased my weights and a couple times a week I would do two workouts a day.
BEN: At that contest you placed 2nd to Toma Salari in Bikini Open, missing 1st by just two points. With Toma earning the Pro Card. This was now your third outing in Bikini Open…with placements being 3rd, 2nd and now another 2nd. Although you were edging closer to that 1st place spot, were you feeling frustrated at all that you were not taking the win or were you just taking it in stride?
AMY: I felt really good and brought the best package I could. I was frustrated and wished we could have done a pose off. I feel like when you're that close there should be a pose off. Also, who doesn't like a pose off, especially when your a spectator.
BEN: You also made your Pro Debut in Evening Gown, placing 3rd. How was it making your Pro Evening Gown Debut?
AMY: Pro Evening Gown was so much fun. I loved sharing the stage with the other Pros for the first time. It's always fun to be able to pick your own music. I really felt confident and beautiful on stage.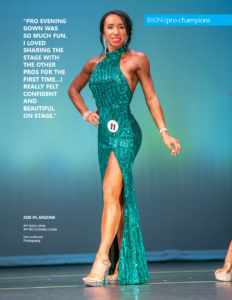 BEN: So now we arrive at APEX V. This would be your second APEX outing. You must have been feeling pretty awesome after your physique improvements and success at the Arizona contest the month prior? Also, at APEX you only competed in Bikini. Why did you drop Evening Gown? Were you just wanting to focus on the Bikini division…and aiming for that Pro Card?
AMY: After the Arizona show I was determined to get that Pro Card! That's all I could focus on for that month. Putting all my energy into Bikini, I decided to not do Evening Gown. I am so glad I did because determination and focus paid off.
BEN: Paid off indeed! How were you feeling on show day? Were you confident that you had it, as far as the Pro Card? Of course you would go on to take 1st in the Open, earning that Pro Card. What did that feel like?
AMY: Show day I was feeling excited to bring my best package to the stage. I just wanted that Pro Card so bad and came up short the previous shows. I am not the type of person to think I have anything before it happens. I just wanted to do my best and hoped it would be in my favor at the end. I was so excited when I won that Pro Card! It's such a great feeling when you achieve your goal that you have been working towards.
BEN: Awesome. Then you would make your Pro Debut against some tough competitors. Some of the best Bikini Pros in the league. What was going through your mind as you headed into that Pro lineup?
AMY: I honestly didn't even have time to think about who was competing in the Pro lineup. I was still processing the fact that I won Open and now I had to do it all over again in the Pro class. I just remember being on cloud nine when I walked back on stage.
BEN: When the dust settled you emerged the winner and the new reigning IPL APEX Pro Bikini Champion, ultimately making IPL history. Such an exciting moment. What was that like for you?
AMY: I was overcome with emotion when I won. I was in complete shock! To win APEX Pro Bikini was one of the best titles to win. I just loved how everything happened. I will never forget this show!
BEN: Love it! Then came one of my favorite things about what we do in the league. The Natural Bikini Magazine cover! Such an awesome moment and powerful photo of you on that cover. It is truly one of my favorites. What did you think when that cover dropped?
AMY: Thank you again! I am obsessed with that cover! When I saw the cover for the first time I was screaming! It just has so much pop of color! I just love it! Thank you again for that framed cover. I see it everyday in my home and it means so much to me.
BEN: Makes me so happy to hear that! So cool! After such big shows and outcomes for you late last year, what was your game plan after APEX? R&R or did you just jump right back into it? And when did you decide to do the April Arizona show?
AMY: After APEX, I never stopped working out. I was definitely celebrating with some yummy cheats. Everyday I need to get a workout in. It's so important for my mental and physical health. In January I decided to do the April Arizona show!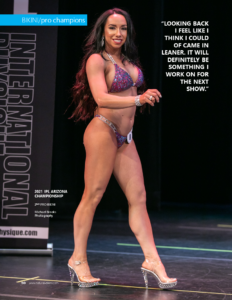 BEN: What was your game plan as you prepped for the 2021 Arizona show?
AMY: Getting ready for the 2021 Arizona show I just wanted to come in fuller and with more muscle. I also wanted to change up my appearance a bit. That show I brought out the long hair. Prepping for a show starts weeks in advance, so I always want to bring my best self out on stage.
BEN: You definitely came in fuller and seemingly with more muscle. That being said, your conditioning was off. Do you think that is a fair assessment?
AMY: Looking back I feel like I think I could of came in leaner. It will definitely be something I work on for the next show.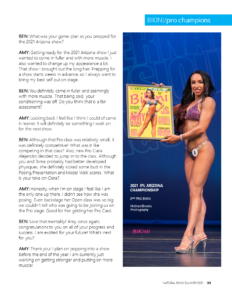 BEN: Although that Pro class was relatively small, it was definitely competitive! What was it like competing in that class? Also, new Pro Ciara Alejandro decided to jump in to the class. Although you and Toma probably had better developed physiques, she definitely kicked some butt in the Posing/Presentation and Model Walk scores. What is your take on Ciara?
AMY: Honestly, when I'm on stage I feel like I am the only one up there. I didn't see how she was posing. Even backstage her Open class was so big we couldn't tell who was going to be joining us on the Pro stage. Good for her getting her Pro Card.
BEN: Love that mentality! Amy, once again, congratulations to you on all of your progress and success. I am excited for your future! What's next for you?
AMY: Thank you! I plan on popping into a show before the end of the year. I am currently just working on getting stronger and putting on more muscle!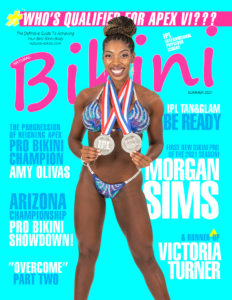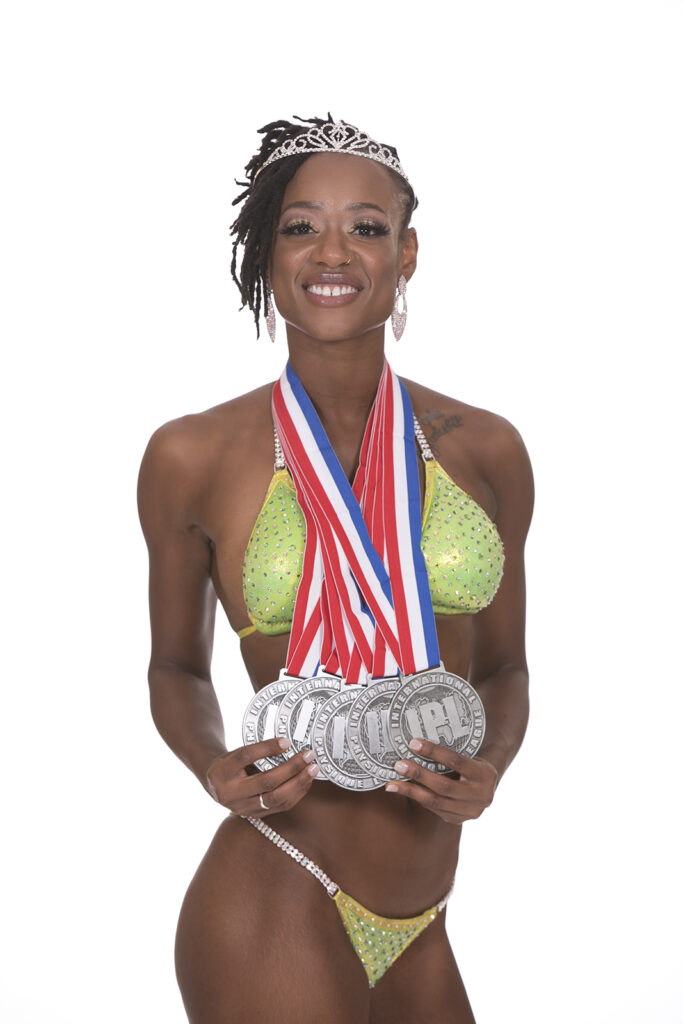 "They all knew the sacrifices I had made and hard work I put in over the last eight months to completely transform. So it was an emotional win."
Read More »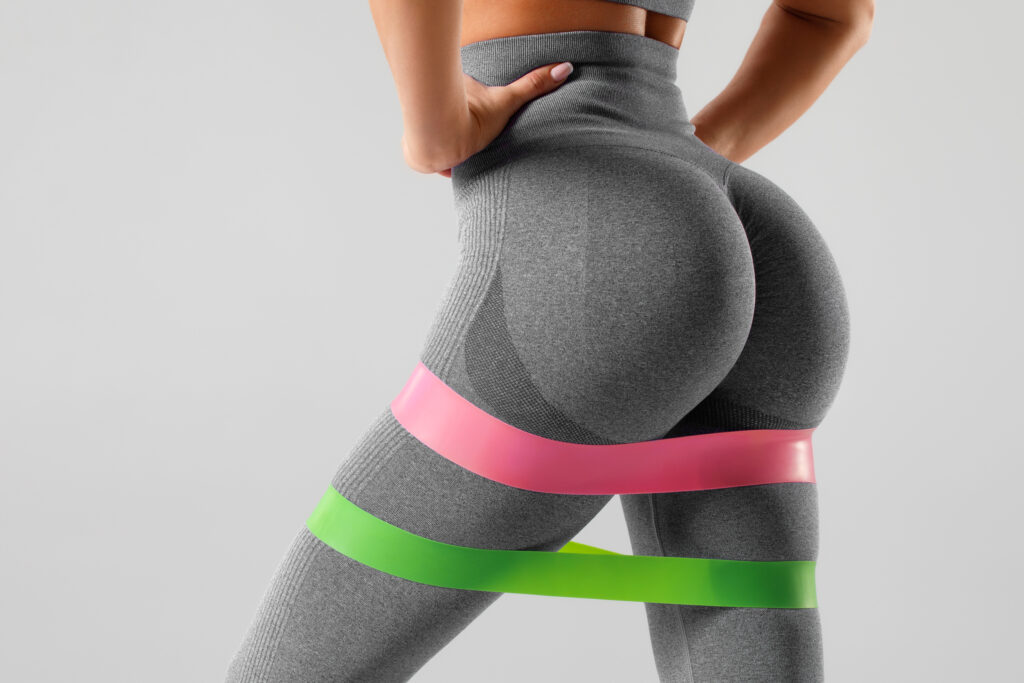 Think you're doing all the right things to tone your glutes? You might be surprised.
Read More »

Cover: IPL Bikini Masters Pro Champion, Christy Vaughn
Read More »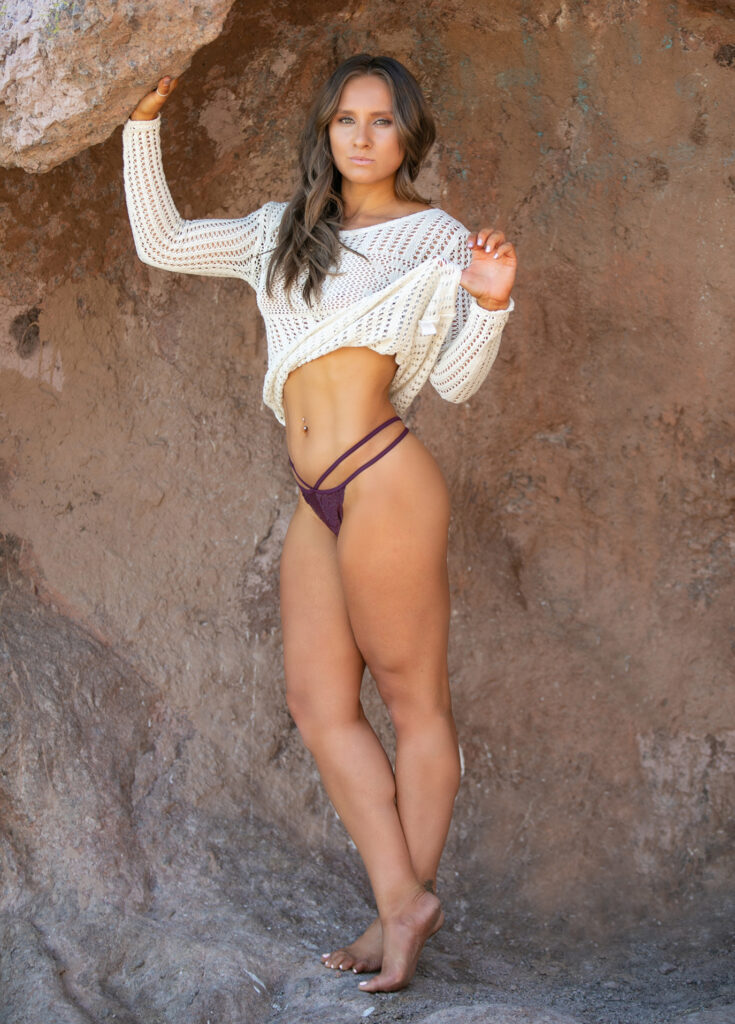 "Everything happens for a reason. What's meant for you will always be yours."
Read More »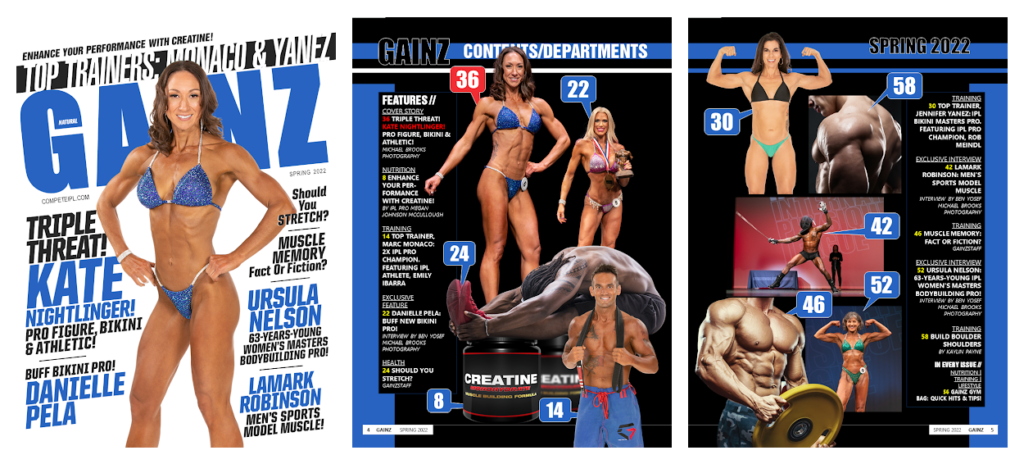 Cover: 2X IPL Pro Bikini Champion and new Fitness Angels Pro, Toma Salari
Read More »