New IPL Pro, Kat Ryan's Comeback!
"I had plateaued in my health and fitness journey at a 45lb weight loss and wanted to take my results to the next level."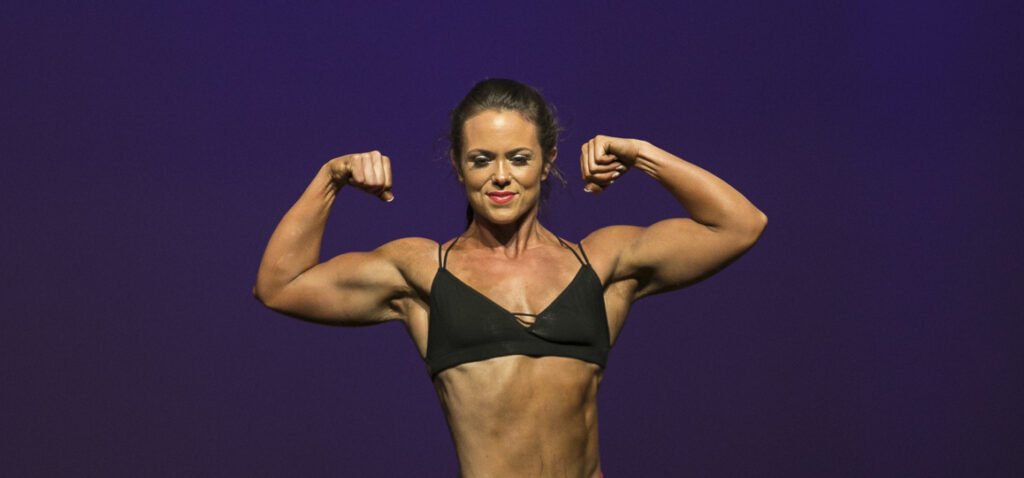 The heat in the Women's Athletic division at the 2019 4TH Annual IPL California Championship Pro/Am on May 4th in Sacramento, CA continued right on into the Open.
     Perhaps one of the biggest stories of the California Championship was Kat Ryan's. Most notably her incredible transformation and the physique that she presented at this contest.
     Kat Ryan would enter Women's Athletic for her first time ever and dominate the Open class. And this was no easy feat as the class was beaming with talent. Needless to say, it was Kat in 1st place, taking home the IPL Pro Qualification.
     Shout out to (2nd) Jennifer Micheli, (3rd) Raquel Flaherty, (4th) Abigail Comstock and (5th) Maddie McVane, who all pushed Kat Ryan to the max.
     Adding to Kat's story was her impressive showing in several other divisions, including 1st place in Bikini Mommas [1 to under 3], 3rd place in Bikini Open Class A and 2nd place in Evening Gown Open.
BEN YOSEF: First off I just want to say once again, biggest congratulations on your performance at the 2019 IPL California Championship. In the three years leading up to that contest you've made so many amazing changes to your physique and presentation. So, let's start at the beginning! The 2016 IPL California Championship in Sacramento. Your first IPL contest. What made you want to compete?
KAT RYAN: I had plateaued in my health and fitness journey at a 45lb weight loss and wanted to take my results to the next level.
BEN: Sweet. Your first contest was the 2016 IPL California Championship. What was your prep like leading up to that contest? And how were you feeling on contest day?
KAT: I realized during that prep that physique competitors are truly athletes. Before that I didn't appreciate the sport. I prepped with the smoothies team for 16 weeks for that show and I'm grateful for what Caroline taught me as well as my coach Shawna Irwin who worked with me on posing for that show.
     I was happy with my results but knew I still had a long way to go. I went in just wanting to do my best. But once I was at the show I realized that I was competitive and I wanted to win in the future.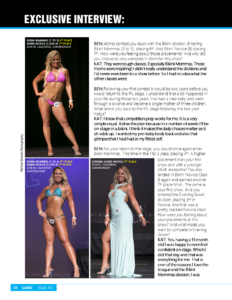 BEN: At that contest you stuck with the Bikini division. Entering Bikini Mommas (3 to 5), placing 6th. And Bikini Novice (B) placing 7th. How were you feeling about those placements? And why did you choose to only compete in Bikini for this show?
KAT: They were tough classes. Especially Bikini Mommas. Those moms were inspiring! I didn't really understand the divisions and I'd never even been to a show before. So I had no idea what the other classes were.
BEN: Following your first contest it would be two years before you would return to the IPL stage. I understand that a lot happened in your life during those two years. You had a new baby and went through a divorce and became a single mother of three children. What drove you back to the IPL stage following this two year hiatus?
KAT: I know that competition prep works for me. It is a very simple visual…follow the plan because in x number of weeks I'll be on stage in a bikini. I think it makes the daily choices matter as it all adds up. I wanted my pre-baby body back and also that glimpse that I had had at my fittest self.
BEN: For your return to the stage, you would once again enter Bikini Mommas. This time in the 1 to 3 class, placing 4th. A higher placement than your first show and with a younger child! Awesome! You also landed in Bikini Novice Class B again and earned another 7th place finish. The same as your first show. And you entered the Evening Gown division, placing 3rd in Novice. And that was a pretty stacked Novice class! How were you feeling about your placements at this show? And what made you want to compete in Evening Gown?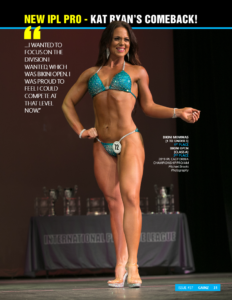 KAT: Yes, having a 13 month old I was happy to even feel confident on stage. Which I did that day and that was everything for me. That is one of the reasons I love the league and the Bikini Mommas division. I was happy with my placements and what I achieved. I love how Evening Gown showcases a feminine side to athletes and I also wanted to try something new.
BEN: Love it! Okay, so let's talk about the 2019 California Championship! This time you would only wait one year between shows. And your transformation, development and improvements were just phenomenal. I recall seeing you hit that stage and I was just like, "wow." I was so impressed with the way that you came in. And I think many people who knew you and have been following you since your first show were also shocked. It really seemed like you were the darling of that show. Did you feel that energy in the building? What did you do differently in between the 2018 and 2019 shows? And, how were you feeling approaching that show as well as once you took the stage with your new physique?
KAT: So, after the 2018 show, I planned to compete again in September for back to back shows. I was in a boating accident in June and couldn't workout for almost two months. I dropped out of the show and also had vertigo even when I did go back to working out. However, in September, I came to Sacramento and was an expeditor for the show. That really changed it all for me. I was backstage watching Elli, who was a big inspiration to me. And then when I saw the Women's Athletic division I was all in.
     I made a decision that month, which is also my birthday month, to get my Pro Card the following May. I knew I would be going up against tough competition and I told myself no matter what I didn't want to think, "well they won because I didn't train hard enough." If they beat me it was going to simply be because they deserved to. I answered the second part of your question first. –laughs-
     In terms of energy, yes, I felt it. I had been telling everyone, my gratitude journal, my dream boards all of it was about me becoming a Women's Athletic Pro in May 2019. And for a lot of the prep it didn't seem possible. But as it got closer I realized, holy moly, I could actually do this. I could win. And then…you talked Jennifer Micheli into adding the Open class.
     Friday before the show I was in tears in my room. I look up to Jennifer and I was scared to death to go up against her. I thought there was no way I could beat her. I had worked so hard and I felt defeated in my own head. It took serious coaching to realize it was still mine to win.
BEN: Wow, that is some really interesting backstory! I'm so happy you overcame that doubt and hit the stage strong! So let's talk divisions, classes and placements. Of course you would return to the Bikini division. This time winning Bikini Mommas 1 to 3. This was your first ever 1st place victory on the IPL stage. What were you feeling after taking that class? And you would also enter Bikini Open for the first time, completely bypassing Novice. Why did you skip over Novice? And why did you decide to only enter Open? Lastly, what was it like placing 3rd in that stacked Bikini Open Class A?
KAT: It felt amazing to win Bikini Mommas. I had worked so hard and it felt like validation for all the hard work. Plus the feeling of winning. Dang that is so worth the years of work and growth to get there. I wanted Open so that's what I went for. I felt like Bikini Mommas was my "warm up round." Then I wanted to focus on the division I wanted which was Bikini Open. I was proud to feel I could compete at that level now. I was very excited to take 3rd in Open. It felt great and I felt I brought my best Bikini look and personality to stage. Definitely a tough class and I felt the placements were totally on point for the look for that division.
BEN: There seemed to be some really emotional moments that took place between you and Abigail Comstock, specifically in during Bikini Mommas. You placed 1st in your class and she placed 2nd. What was going on there?
KAT: We trained at the same gym for that show. She is a tough competitor. One of the most consistent I've ever met and works very hard. I knew I'd be going up against her for Mommas as well as Athletic. She was a major driver in how hard and consistent I was in prep. She gave me a hug and said something like, "you did it." It meant a lot to me.
BEN: Next you would hit the very competitive Women's Athletic Open class. Which of course included Jennifer Micheli. How were you feeling in that class? And after hitting the stage and feeling the vibes, did you think there was a good chance that you would take it?
KAT: I was definitely nervous and very excited. It was what I had worked so hard for. After prejudging I was on top of the world because I really thought there was a good chance I had it. I was in the middle for most rounds and felt amazing about it.
BEN: For sure! What was it like for you when you were announced as the winner at Finals? I can only imagine!
KAT: It was like a dream or a movie. The best feeling ever. My family and friends were there supporting me and my daughter yelling, "That's my mom" is at the top of my best life moments.
BEN: Your final division was Evening Gown. Another class that you excelled in at this contest, placing 2nd in a stacked and very competitive lineup. What was it like for you to return to this division and do so well? And how did you feel about your placement?
KAT: I loved the Evening Gown division! My dress was exactly what I had imagined when I wanted to do that division again. It was definitely a tough class taking on Jennifer Micheli again and also Raquel, who is a Bikini Pro!
It was a crazy long day though. I went on for my t-walk at midnight. I never saw the score cards for that division, which I would have loved to. I definitely think I had some of the rounds, but in the end was very happy with 2nd. Especially considering the competition I was up against.
BEN: Yes, a very long day! –laughs- On that note, thank you again for sitting on the judge's panel at the Arizona show earlier this month! I'm sure you enjoyed the more streamlined, straight-run show format? Definitely makes for a much shorter day! And as far as the score cards from your show, I actually just checked online and they're not posted. But we can definitely get that scorecard posted for you. It's not too late!
So, Bikini, Athletic and Evening Gown. All completely unique divisions from the other. What was it like transitioning through each of these divisions during the day…as far as outfits, energy, etc. Challenging? And what tips would you give to other competitors who are looking to enter a variety of divisions, like you did?
KAT: I loved the straight through show in Arizona. I also loved the new Pros jumping into the Pro division within the same show! I hope you keep that going forward. It kept the returning Pros on their toes!
In terms of taking on different divisions, I'd say practice getting into the outfits, jewelry, hair change etc. before hand. Nutrition is key to being on stage multiple times during the day. I ate a lot and had candy bars before each division. Also practice the posing A LOT and make sure you're showing different looks trailered for each division.
BEN: Awesome, and yes I think we will actually keep that same format where we allow the new Pros to jump right In. It seems like that went over really well and added to the excitement of the show. Which division is your favorite to compete in? I think I can guess, but I still need to ask. –laughs-
KAT: Athletic! But I'm super excited to take on Bodybuilding in 2021!
BEN: YES! –laughs- I figured you would say that! And that is awesome on Bodybuilding! You would do great there! Do you plan to return to the other divisions? And I guess you just answered my final question…But, what's next for you?
KAT: Yes, I'm planning on my Pro Debut and maybe Evening Gown for 2021 and to try my hand at Bodybuilding.
BEN: Nice! No more Bikini?
KAT: No, I don't think that my physique will ever have me winning Bikini and I'm ok with that. I'd have to stop lifting heavy and do a whole lot of cardio to win that division. And I love lifting heavy.
BEN: GAINZ! –laughs- Well, it has been great getting to learn more about your journey and I am sure readers will really enjoy this interview. And for the record, this feature is eight pages long! –laughs- Normally they are half that length. I look forward to seeing what you bring for the 2021 season!
KAT: You had three years of life and competing to cover! –laughs- I'm so grateful for the IPL and the role it played in my journey. Also excited to bring a big team to compete next year!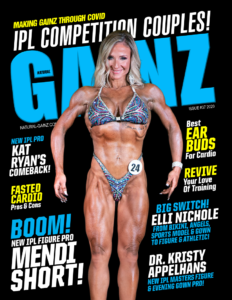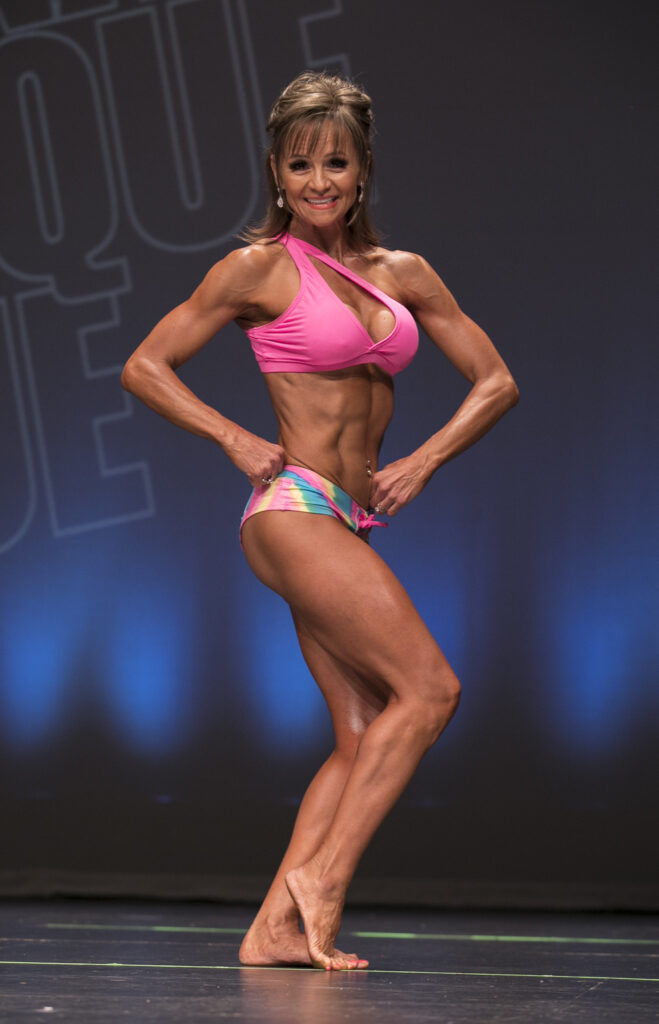 "It was completely emotional. I was surprised, thrilled and overwhelmed all at once."
Read More »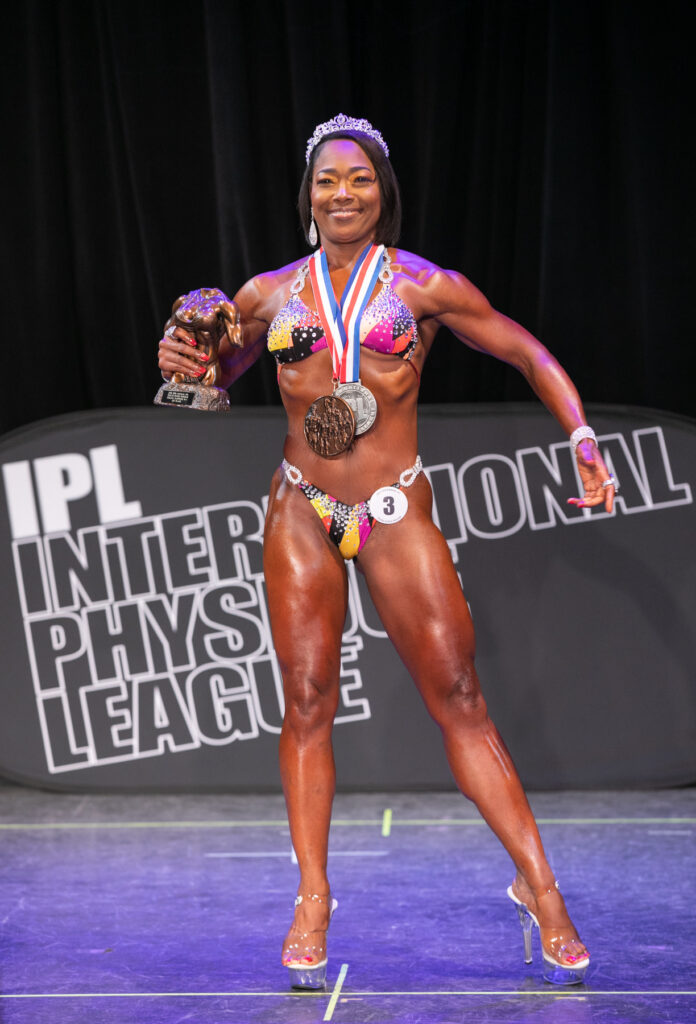 "To be able to do something you would only do or think of when you are younger is a good achievement."
Read More »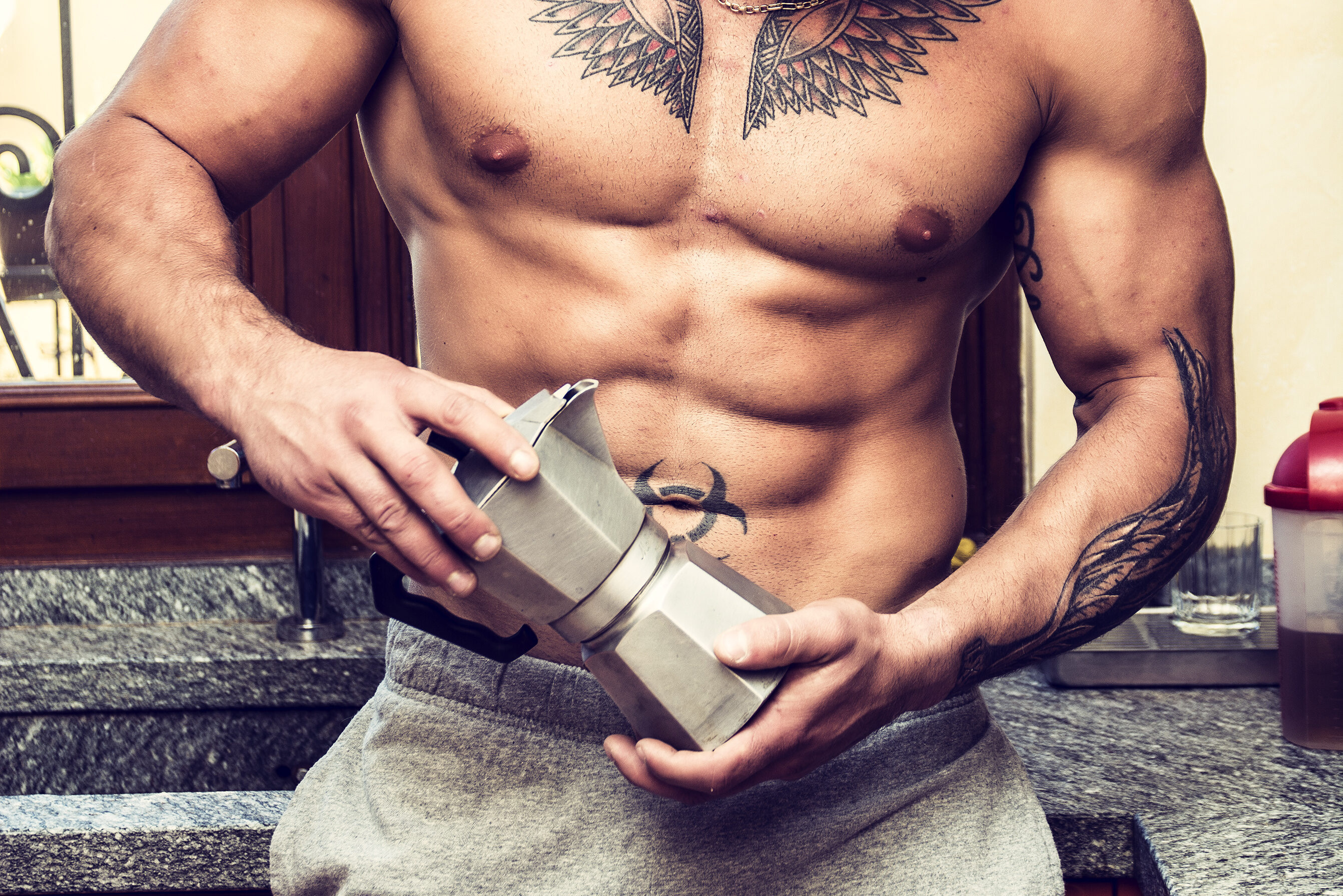 When it comes to improving athletic performance, caffeine has been one of the most used ingredients.
Read More »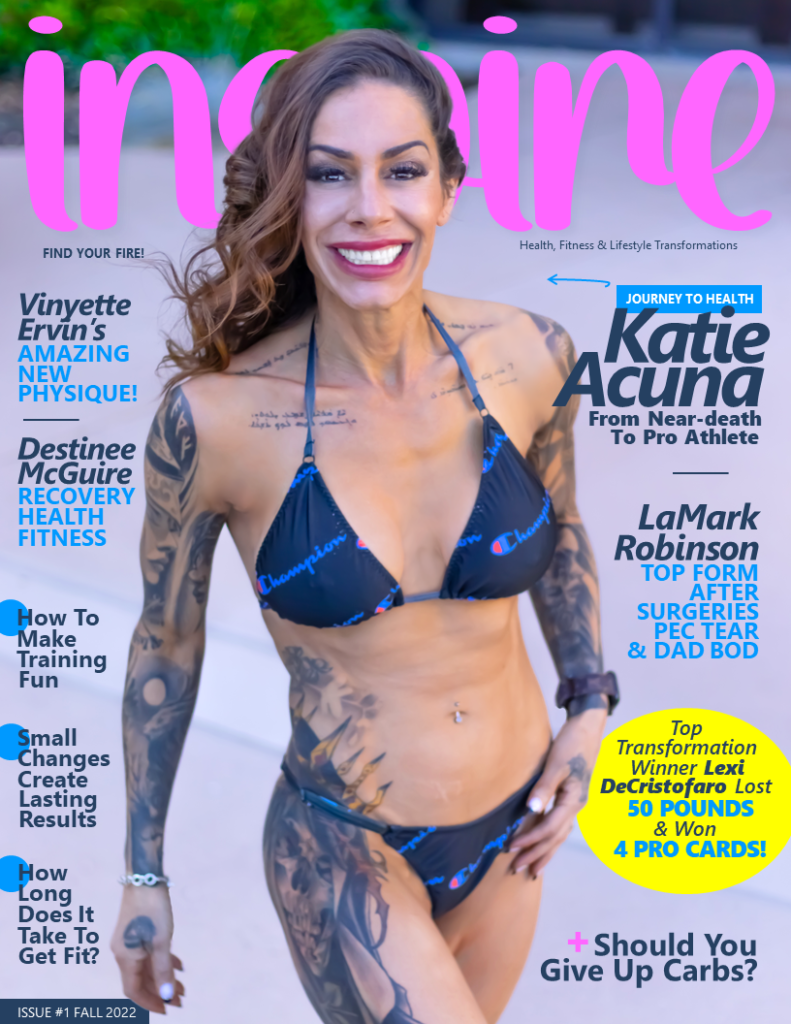 "Being on this cover is a dream come true! Finding mental, physical and spiritual healing in fitness saved my life. I am so thankful to be part of such an amazing league with so many inspirational athletes!"
Read More »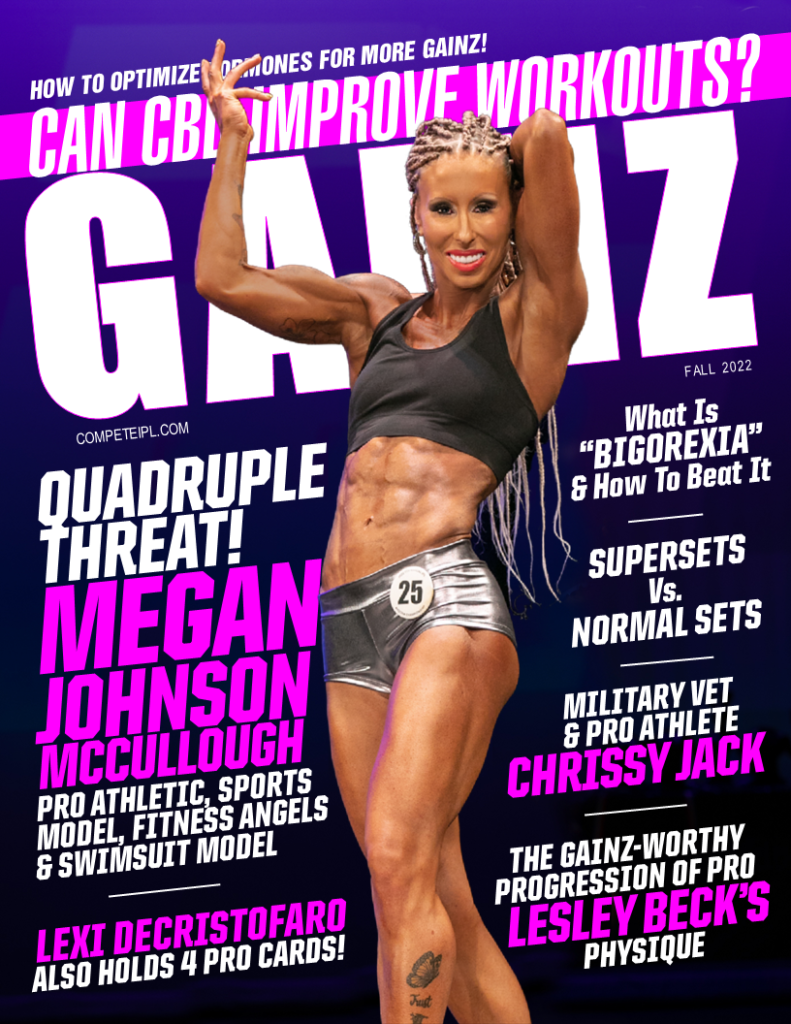 "I used to be a cardio queen, chasing the 'skinny look'. But now I love looking athletic, fit and strong like a cover girl!
Read More »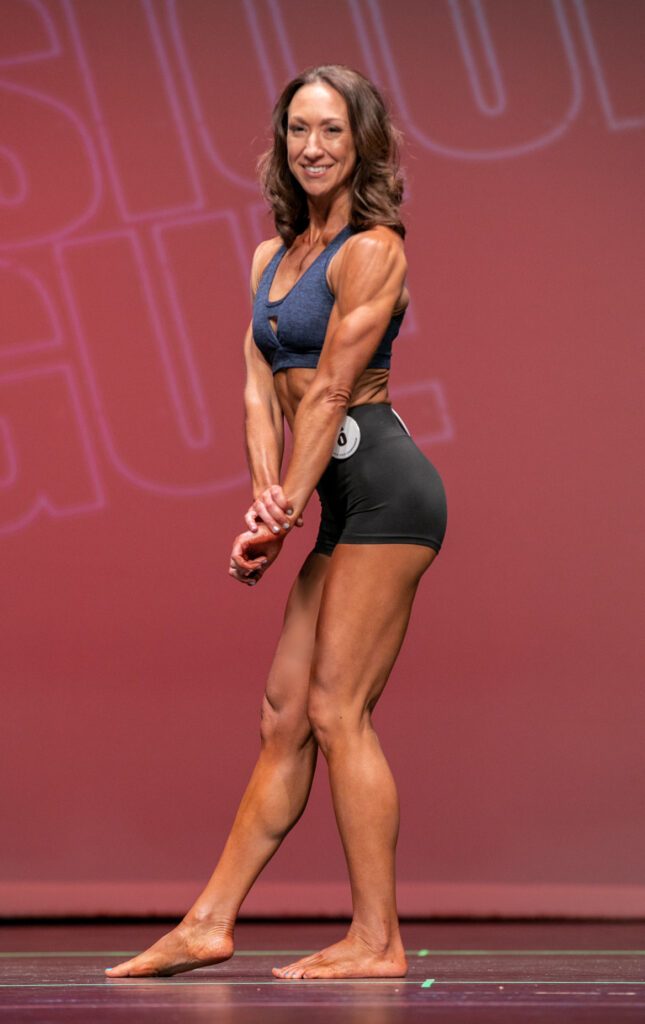 "I like a leaner look through-out the year. Yes, I am in shape year-round!"
Read More »